Q&A with Niam
A brief question and answer with Niam Abeysiriwardena, a South senior who happens to be 12 years old.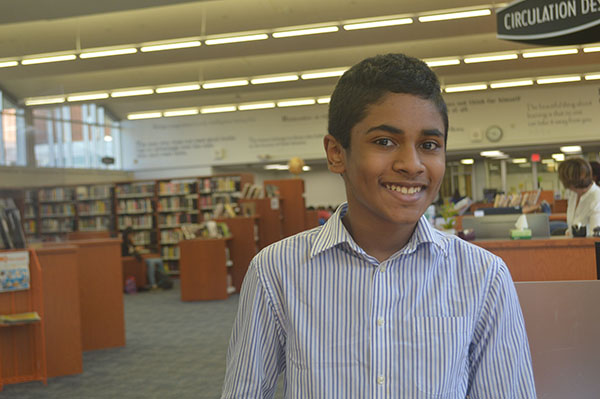 Twelve-year-old Niam Abeysiriwardena started his senior year at South in August, having recently moved from his home in Huntsville, AL to Glenview after his mom got a job nearby. Abeysiriwardena, who is considered a "child prodigy" by some, started his schooling at a Montessori preschool. He then transferred to another school where he did Kindergarten and first grade at the same time, and then later started an accelerated program in Lexington, Kentucky. This program spanned third, fourth and fifth grade, but Abeysiriwardena completed only third and fourth before enrolling in an online high school in Huntsville, Alabama.
After a year in online high school, Abeysiriwardena moved to Glenview, completed another year of online high school and then finally transferred to South for his senior year in August. He reflects on his past schooling, and also looks ahead to the future at South and beyond in the Q&A below.
Q:  Where did you go to school?
"I went to New Century Technology High School. It's in Huntsville, AL."
Q: What classes are you enrolled in?
"The classes that I take are AP Computer Science, Health, because I did not take that before. I held out on it. Next is AP World History, then AP Calculus BC, Engineering Design. I have Consumer Ed Honors. And then because Calculus BC is a three semester course, you get one and a half blocks in total every two days."
Q:  What else are you involved in here at school?
"Right now I'm trying to find some clubs to be a part of. Tuesdays is Model UN, Wednesdays is Tea Club. I love tea and we get to talk about tea for an hour. On Thursdays I have Math team; I'm trying to get involved in that again, and Fridays I don't have anything."
Q:  Do you consider yourself a prodigy?
"No, not really. The way that I view my situation is that I have saved five years of my life…I've literally bought myself time, which apparently you cannot do, but I have done the philosophically impossible."
Q:  Does it make you feel really smart coming to school and receiving attention from your peers?
"It kind of makes me feel different. It happens once in awhile, but when it does, when they ask me questions, I'm viewed as a freshman most of the time. I am tall enough to be a freshman so it's not an issue."
Q: Where do you want to go to school?
"I'm thinking about Northwestern, UIC, Loyola, and Lake Forest College. I'm also thinking about University of Kentucky. That was where I lived; that was near Lexington, Kentucky…That's also where my parents both went to. But not a big-ticket school unless they're going to give me a scholarship."
Q:  What are you thinking your major will be?
"My major [would be] in the medical field, I'm leaning towards [a] neuroscience sort of thing or [a] biology sort of thing…It just seems very interesting, and also my grandmother died of a neurological disease, so that's what started my interest."
Extra Online Questions:
Q: What is your favorite thing to do outside of school?
"Truly my favorite thing to do outside of school is to look for cool facts that are academically related. Sort of cool stuff, and my definition of cool is something that is interesting, complex and challenging to understand, but once you understand it's just beautiful."
Q: Do you have a favorite T.V. show?
"I have two, Dr. Who and Naruto. It's a Japanese anime thingy. It's a show about ninjas."
Q:  When is a time you felt most accomplished?
"When I got my first degree black belt [in Taekwondo], but it has been two years since. I think I still should be able to break at least one board. I think at some point I broke three [boards]."
Q: Do you miss Alabama?
"Yes. I lived there for six years, half of my life. […] We have a 4,000 square foot house there, and I really like it. We were living in a really nice neighborhood, and there was some really cool stuff downtown, also some friends. I miss some of the people there."