Yunsu Yu experiences new culture through Japanese exchange program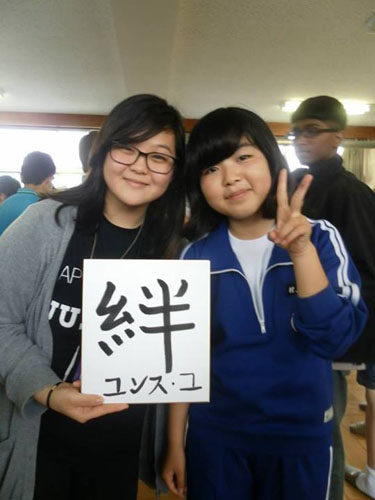 Imagine traveling to Japan, away from home for 18 days, traveling to two different locations. You meet people, gain new experiences and are surrounded by a different culture.
Senior Yunsu Yu did just that over the summer.
The Japanese Exchange and Training Program (JET) offers exchange programs for high school students. JET created the Memorial Invitation Program (MIP) in memory of two American English teachers who died in the Tsunami on March 11, 2011.
Every year, JET MIP offers a scholarship to 32 students in the United States for an exchange program to Japan. Yu was nominated and was the first to be accepted from South.
"I was really shocked when I got accepted," Yu said. "Like nobody really expected it."
According to www.jflalc.org, JET encourages students to study Japanese and take part in exchange programs. JET also encourages creating stronger bonds between two different cultures, according to Yu.
"Even though we didn't know each other from before or speak the same language, we were able to connect over the simplest things," Yu said.
From July 9 to 23, Yu visited Osaka and Tohoku. The latter suffered heavy damage from the 2011 tsunami. Yunsu visited schooling institutes to learn Japanese and also got to visit several other schools. Yu said she experienced a strong difference between the cultures of the US and Japan.
"They're really open-minded to like everything," Yu said. "So even though you're a stranger, they'll go up to you and be like 'Hi, good morning.' They'll just start conversations with you.  […] Here, people are always busy with their own things."
Yu first heard about the JET program through her Japanese teacher Yasuko Makita. After a well-written essay and a Skype interview, Yu was accepted into the program. Makita was thrilled.
"We just jumped," Makita said. "When she got the message, she came to me after school [and said] 'I got it!' We just were joyed."
Yu was the only student that got accepted from the Chicago area, but quickly became friends with the others in the program from around the United States, some of whom she has continued to stay in touch with.
"I think I gained a lot of insight and [saw] how powerful a human being is," Yu said. "When someone reaches out their hand to you or even [gives] you a simple smile, they'll make you more comfortable. I encountered that in one of the elementary schools in Japan. I was really nervous because my speaking was really bad and I didn't know what to expect, but this student, a fifth-grader, she just gave me the biggest smile ever […] I think that really impacted me and how to go about this trip in Japan."