Creative Customs carries captivating clothes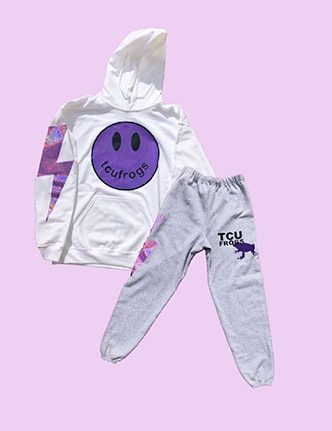 Personalized Starbucks cups, custom sweatshirts and tie dyed sweatpants are just a few products that senior Ellie Weiss devotes several hours a week designing for her business, Creative Customs. Her newly-created small business has recently gained a lot of recognition around the community, especially for fellow seniors looking for college apparel with unique designs, which Weiss crafts herself.
The idea for Creative Customs sparked when Weiss asked for a Cricut machine for her birthday last year, according to Weiss. She described that the Cricut is a computer-controlled craft machine that is able to cut all sorts of material, including vinyl, poster board and coaster board. It is able to cut any design out to transfer onto a piece of clothing or a cup, she said.
"Basically what I do is I go to a store or go on Amazon, and I purchase different kinds of material," Weiss said. "I'll hook the machine up to my software, and it'll cut [the material] out on the machine."
After playing around with the machine, Weiss started to make items for her friends. She said she decided to make Creative Customs a brand that allows customers to come up with their own designs. To order an item, customers have to complete an order form with their design ideas and sort out the details with Weiss, she said.
"I talk with [the customers] to see what I can do and what they're looking for," Weiss said. "I tailor it to what they would like to see and make it happen."
Since the requested designs vary, Weiss has to keep an open mind to experimenting with different materials and designs. Weiss said the most popular item is personalized college gear. She credited the college gear's popularity to the abundant support she's received from this area through the promotion of Creative Customs on social media platforms.
"I have a lot of friends going to college next year and I know a lot of them, as well as other seniors, are looking to buy custom college apparel," Weiss said.
Her friends have been eager to help get the word out and model her items, according to Weiss. Senior Maria Manzella said she began helping Weiss after ordering clothing from her company and loving them. She now helps take pictures of the products and pitch design ideas for future merchandise, Manzella said.
"Usually I'd go [to her house] during lunch, and she'd have all the clothes out," Manzella said. "We'd try on different clothes and send designs back and forth. She'd tweak them because she knows what she's doing more than me, so it's just a fun process."
Senior Dina Saef also assists Weiss with the organization aspects, she helped start up the Instagram account for the business and she keeps track of all the orders. Saef said she enjoys working with Weiss because she gets to see the designs come to life in their own unique way.
"Everything is different and it's very rare that she makes a product that's identical to something else," Saef said. "I love the Starbucks cups [that Weiss makes] because they're reflective of the person's personality, which is really cool."
With the help of her Cricut machine, Creative Customs is able to serve as a creativity outlet for Weiss. Weiss emphasized that the small business also brings her joy in knowing that her creations benefit others as well.
"My favorite part is probably just making other people happy because I get to tailor it to how [the customers] want their clothing," Weiss said.