Abby Lorenzini discovers her passion for fashion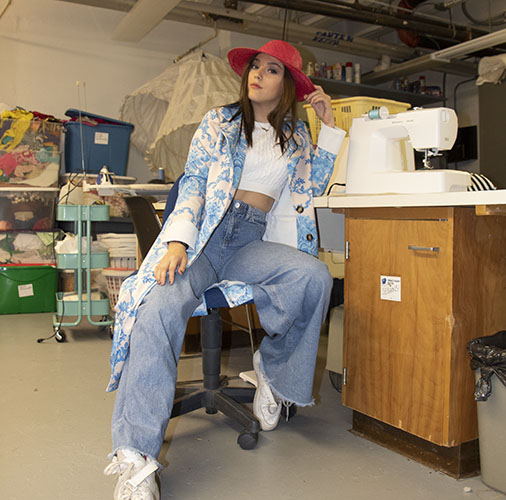 Upon first impression, one might not be able to guess that senior Abby Lorenzini, whose love of fashion is constantly reflected through her unique outfits, has traveled across the world. From Milan, Italy to New York City, she hopes of pursuing a career in the fashion industry. She has been able to partake in events the average high schooler has not.
Her love for fashion started with her grandmother, Elaine Sarnoff, according to Lorenzini. She recalled going to her grandmother's house as a young child and trying on clothing from Sarnoff's closet, filled with fur coats and patent leather suites. Sarnoff was a supermodel in the 1960s, making most of her income from swimsuit photoshoots, according to Lorenzini.
"She's a tough cookie, she goes for what she wants," Lorenzini said. "She influenced me in the way I dress, she was always bold."
During her freshman year, Abby said she had already chosen fashion as one of her electives, not knowing that it would open her up to such life-changing opportunities. Fashion Club exposed her to the world of fashion and taught her the basics of designing her own clothes, such as sewing and how to compose outfits.
"To get into the industry you need to learn the basics," Lorenzini said. "Fashion Club pushed my boundaries and taught me the ins and outs of the design world."
From the start, Lorenzini said she had a special bond with her fashion teacher Melissa Pfister. According to Lorenzini, Pfister was very accepting towards everyone in class, no matter their fashion taste.
"Mrs. Pfister and I bonded so well in Fashion Club, and she inspired me to get involved in fashion and develop a passion for it," Lorenzini said.
Lorenzini's mentor, Pfister, noticed her right away and guided her deeper into the realm of fashion. Pfister stated that she saw how Lorenzini was always energetic, bubbly and excited to be in class, which naturally caught her attention.
" I [didn't] know if she was fully aware that [it] was her career path at that level," Pfister said. "I sort of even gravitated toward her as a student because it was so evident from her personality, the way she dresses, that this is her path."
As Lorenzini fell deeper in love with fashion, she gained a new appreciation for the style of those around her as well.
"I've noticed, throughout the four years, people have gotten more expressive, they've gotten more ballsy with their fashion choices to school," Lorenzini said.
Lorenzini explained that she applied for the New York Times Student Journeys program, for which she had to write an essay about her personality, in addition to getting teacher recommendations. When she accepted into the program, she exclaimed that she was stunned since she knew 4,000 kids had applied and she was one of the 23 accepted. Because of the program, she got to travel to amazing fashion places, she stated.
"It was an unbelievable blessing," Lorenzini said. "Putting myself out there gave me the opportunity to travel to Milan and New York."
Lorenzini explained that her main inspirations in fashion are French fashion designers Thierry Mugler and Jean Paul Gaultier. Both broke down fashion boundaries and strayed away from gender stereotypes in fashion and experimented in different styles, something Lorenzini said she likes to do.
"Breaking boundaries is important in the fashion industry, which is exactly what these designers successfully did," Lorenzini said.
Looking towards her future, Lorenzini knows she wants to study strategic design and merchandising. After college, her main goal is to get an internship with a high-end designer, Lorenzini explained. For now, she said she applied to Parsons School of Design in New York City.
"I am planning to go into the business side of fashion, and not so much the design part," Lorenzini said.
Lorenzini dreams of traveling to Paris, where all the major fashion houses are located, according to her. She said she wants to keep exploring the different fashion cultures in other countries.
"Chanel, Dior, Saint Laurent, that's where you want to be if you want to get into fashion," Lorenzini said.
After her experience in Fashion Club and spending time taking in the aspects of the fashion world, Lorenzini has built up her knowledge and experience. Not only did Lorenzini notice changes in herself throughout the years, but Pfister also saw a remarkable amount of progress as well.
"She had this new maturity about her where it wasn't just the class she had fun in, it was the class she wanted to make into her career," Pfister said.