National Music Society honors musically talented students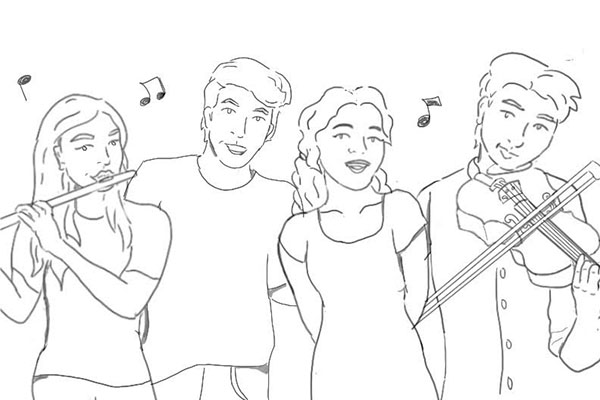 South awards students who excel academically in the National Honor Society. The school also awards students who go above and beyond artistically in the National Arts Society. But what about those who are exceptionally skilled in music?
Modern Music Masters, or "Tri M", is for the recently revived National Music Society at South. The Instructional Supervisor for Fine Arts and sponsor of Tri-M, Mark Moranto, said the society was completely restored by juniors Emily Cho and Haley Kim at the end of last year.
Tri-M includes students that belong to an upper-level music class, such as the Symphonic Winds, the Glenbrook Symphony Orchestra and Master Singers, to be recognized for their commitment to music, according to Cho. The society is primarily service-based and unites the band, orchestra and choir to better the music community at South, Cho explained.
"I think [the society] is really important because a lot of music students can get recognized for their hard work," Cho said. "It's great to have an honor society for them."
To become a part of this society, students must have a 3.5 GPA, an "A" in their music class, and attend two service events, Kim said. According to Cho, students must be in an upper-level music class to be initiated.
The idea to start the society came to Cho at the beginning of last year. Cho said that one day her mother, a teacher at Glenbrook North, mentioned that the school had this program. Cho knew some people at Glenbrook North who were involved in the society and this gave her the idea to start the society at South.
Cho brought the idea to Kim and together they set out to start the society, according to Cho. The two girls started by approaching the orchestra directors, who were unable to help them because they worked at both North and South and the club needed a teacher who works in one school. It wasn't until the beginning of this year, Kim said, when they found Maranto, who was more than willing to sponsor the club.
"I'm in favor of anything that contributes to improving the student experience; anything that will make the experience better for all of us," Maranto said. "I think it's a great opportunity for students in band, orchestra and choir to come together in an organization [when] usually they do their own thing."
The volunteer events members will attend are more focused on helping the music community, according to Maranto, which means that they may usher a concert or assist a teacher with cleaning or cataloging music.
"Our end goal is that this club stays at South and the representation of these Fine Arts Departments is able to be thoughtfully represented as well that the student's talents," Kim said.