Thank U, Next worthy of overnight success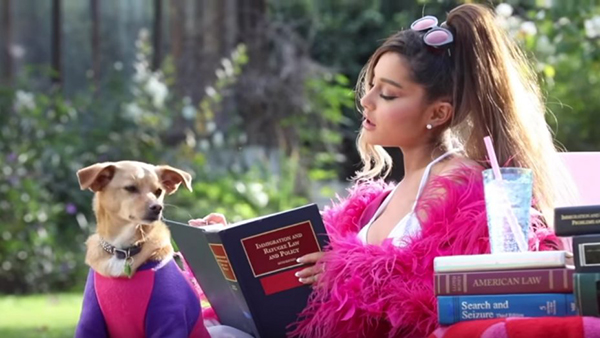 Caroline O'Shaughnessy, asst. a&e editor
March 15, 2019
Ariana Grande has been on people's radar for many years. As a young teen, her role as Cat in the hit Nickelodeon show, Victorious, introduced her to the limelight very early on. While many of us came to know her through her character on  Victorious, we have now come to love her for her music. Debuting her first album, Yours Truly in 2013, many came to understand Grande was destined for star status. Now, in 2019, she has five studio albums under her belt, the latest being Thank U, Next.
Five hours after the drop of Ariana Grande's "thank u, next" music video, the numbers were already staggering: 14 million views and 200,000 comments—  breaking the record for most views in 24 hours. The single "thank u, next" is one of the standouts of Grande's latest album, which has taken the charts by storm.
This music video may be a large player in the success of  Thank U, Next as whole. The music video features guest appearances of many pop culture icons such as: Colleen Ballinger (Miranda Sings), Kris Jenner, Troye Sivan, and many more. The video also references iconic moments from other works such as Mean Girls and Bring it On. Engaging a diverse audience, both young and old with this video, Grande draws on several demographics feeding into the immense popularity it has gained. While this video was amazing, the music was just as good.
Starting off the track with "Imagine" Grande introduces a major theme of the album: love. Following a very public breakup with her ex-fiance, Pete Davidson, Grande uses this album as a form of release; constantly referring to her exes, self-love, and just love in general. While "Imagine" isn't my favorite track on the album, I don't find myself wanting to skip it either, as it is a perfect introduction to a mesmerizing line up of music.
One of my favorites on the album is "NASA". Introduced with a narration of the words, "One small step for women, and one giant leap for womankind". Grande erupts into a catchy song with messages of self-love and empowerment interspersed with lyrics about her past relationships. Speaking on the importance of finding yourself in hard times and embracing self-love, "NASA" is a song you will frequently find me listening to when I need to relax after a stressful day.
Another song I currently have on repeat is a spin-off of the famous song "Favorite Things" from The Sound of Music: "7 Rings". "7 Rings" is an assembly of repetition and the catchy, familiar beat of a famous song with a modern twist. Projecting confidence and pride, Grande found immense success with this song, rocketing to the top of the charts, and it is very easy to see why.
Full of impressive vocals and inspirational lyrics promoting ideals of self-love and girl power, layered with catchy back beats and harmonies, Thank U, Next has quickly become one of my favorite albums to listen to both on my own and with my friends. Despite the complexity of her songs, Grande was still able to make it easy for her fans to sing along with her.
At 25 years old, I think it's safe to say we will get many more incredible albums out of Grande, but her latest may be hard to beat. This album was entertaining, catchy, and most importantly empowering. Focusing in on themes of self-love and empowerment Grande likely inspired many with, Thank U, Next. This album is blowing up, and rightfully so. And while I don't claim to know much about music, I know that this album isn't going away anytime soon.