Film festivals highlight student work, offer recognition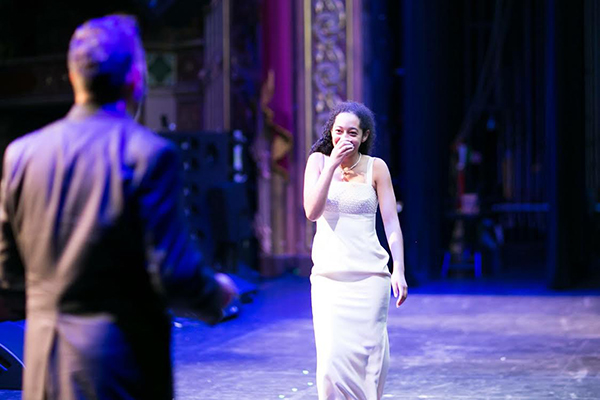 Senior Kayla Kraft walks into a packed room. It is Oct. 2017, and she has arrived in New York from Chicago to attend the All American High School Film Festival, according to Kraft. As they announce the nominees for best visual effects, her name is called. Kraft is extremely surprised, as she had no idea her film even had visual effects and is honored to be a finalist. However, they begin announcing the winning film and, to her astonishment, they read the title "Self Conscious." She sits in absolute shock and disbelief, not knowing how to react.
According to Julie Benca, broadcasting teacher and TV and Film director, students from her Advanced TV class (ATV) will submit films to the Midwest Media Educators Association Festival this spring. The festival is held at Neuqua Valley High School, where approximately 800 students attend from the Midwest, according to Benca. Benca says that the teachers at the festival decide on the best 10 films from each category, which are then sent to professionals in the industry who choose the top three.
"It's a really great opportunity for students to go to this festival, and Neuqua Valley does an exceptional job," Benca said.
According to junior Zach Bilimoria, an ATV member at South, only three films can be submitted per category, so the whole television program watches all the films and votes on whose work is the best reflection of the program. Bilimoria says this spring will be his first time submitting work to the Midwest Media Educators Association Film Festival. Bilimoria says that although he attended the festival last year, he did not submit due to lack of experience.
"Seeing the environment that everyone was in and how everyone reacted, it seemed like a great place and I kind of shook off the nerves," Bilimoria said.
Bilimoria says that this year he will submit a cinematography reel: a compiled montage video of film he has shot throughout the year. In the film, Bilimoria includes footage from his trip to Alaska and highlights from the field hockey video he made for the fall sports assembly, along with several other clips. His work will be judged on the editing, aesthetics, variety and color, according to Bilimoria.
"It's very difficult to complete because you need to have a variety of shots that really appeal to everyone," Bilimoria said.
According to Kraft, she will submit three films this year. The first is a public service announcement about Asperger's syndrome, which she was excited to make because her brother has the condition. In the film, she portrays a more realistic viewpoint as she shows an experience her brother had in which people misinterpreted his actions, according to Kraft.
"[People with Asperger's] get bullied so much because [some people think] they speak and act 'odd,' but it's just different," Kraft said. "I hope after people watch [my] video, they will see those who maybe communicate in a non-traditional way and treat them in a friendly manner, regardless."
According to Kraft, her second submission is a music video to the song "To Be Loved" by Tokio Myers, in which Kraft and several of her friends paint on themselves and dance in front of black lights. The last film is a movie trailer about a man with Obsessive-Compulsive Disorder who falls in love with a girl who, over time, gets annoyed with his condition and leaves him after getting her dream job in the music business.
"It's really fun and enjoyable to create something that you have in your mind, Kraft said. "It's much different to explain it in words than it is to explain through visuals and sound."
According to Benca, her ATV class supports students' desire to get involved in film festivals. Students work on films throughout the semester that they could potentially submit to festivals, and many of the units even align with festivals' categories, Benca says.
"What's unique about it is there's not many organizations of high school media teachers like [South's] that exist, so it's pretty cool," Benca said.
According to Bilimoria, film festivals offer feedback that can cultivate his filmmaking. Bilimoria says that filmmaking is a viable career option for him, and that he hopes to eventually work with commercials or short films.
"Film now is in a great golden age, so there's a million different options out there if you want to pursue it," Bilimoria said. "[Film festivals are] a great way to get feedback on your work, learn and sometimes get honored for it. Usually, there are a lot of people, so when you get honored, it's a really big deal."