Traditional instruments preserve familial, cultural ties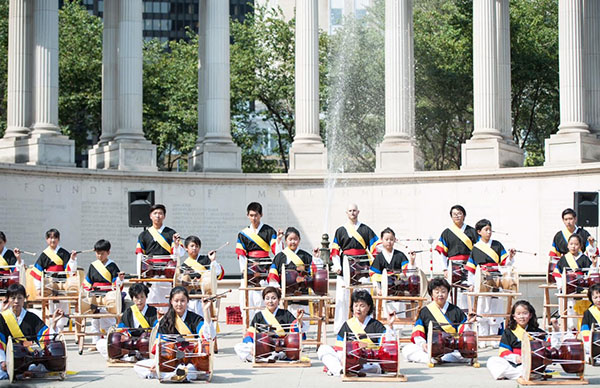 Piano. Guitar. Violin. These are the instruments that frequently come to mind when thinking about music. However, while many students' musical experiences are represented by instruments like these, others are characterized by ones that originate from their respective cultures.
According to junior Zachary Reiss, family members influenced him to begin playing the harmonica, an instrument that connects him to his American roots.
"I have a lot of people in my family that are very musical, and in particular I have an uncle … [who] plays a lot of instruments and one of them is the harmonica," Reiss said. "Also, one of my cousins can play harmonica and play 'Piano Man' on the piano at the same time. Different acts like that … really interested me in the harmonica and what you could do with it."
According to sophomore Nicholas Antonoglu, he plays the tetrachordo bouzouki, a Greek cultural instrument similar to a mandolin, because his grandfather used to play it when he was alive. Antonoglu says he considers the instrument and his ability to play it as a family heirloom.
"It's kind of like he passed it onto me after he died," Antonoglu said.
On the other hand, junior Eddy Ji casually began playing the buk, a Korean traditional drum, because he had it at home. Ji joined Soribeat—a group that plays poongmulpae, a music genre played with Korean folk instruments—and plays the buk as well as the janggu, a double-headed hourglass-shaped drum. Although Ji competes and performs with his group, he says he has also played alone in front of large crowds.
"I went [to Morocco] with my church as community service and then my leader just told me to bring something the locals could enjoy, so I just [took] my Korean drum," Ji said. "I didn't know 500 people would come [to the performance]."
Although not included in a musical group like Ji, Antonoglu and Reiss have also played for audiences. Reiss says he usually plays in casual settings with friends.
"I have another friend who plays harmonica [and] sometimes I'll play with him just during the school day," Reiss said. "I'll play on people's birthdays. If I have the instrument with me and people are jamming out, I'll pull it out, [and] jam out with them."
According to junior Jack Sundstrom, who plays the bodhran, a traditional Irish drum, he has participated in competitions with his instrument including Fleadh Cheoil, a competition that he won in the Midwest. He also competed in the world championships in Ireland. Sundstrom says he has received many cultural benefits from learning to play the bodhran.
"[Playing the bodhran is] a way for me to be a part of the Irish culture, which is important to me because my grandpa was adopted from Ireland and I feel like I don't want to let that aspect of my family history fade," Sundstrom said.
In addition to providing a cultural benefit, Antonoglu says playing the tetrachordo bouzouki has allowed him to recover his interest in music, which he lost after playing piano at a young age.
"[The bouzouki is] more cultural and I feel like I can relate to it more [than the piano]," Antonoglu said. "[The bouzouki] has definitely reopened my mind to music. I had kind of closed it off a lot after I quit piano, but I'm definitely more into it [now]."
Ji says the main reward he feels from learning Korean cultural instruments is the connections he has formed and the message he communicates with it.
"You feel more connected with your family, you feel more connected with your culture and your nation," Ji said. "[Playing a cultural instrument] is really just to show people who you are and it's just a way to elaborate … how there [are] different cultures in the world."