Martinez pursues passion for broadcasting with South's radio and television programs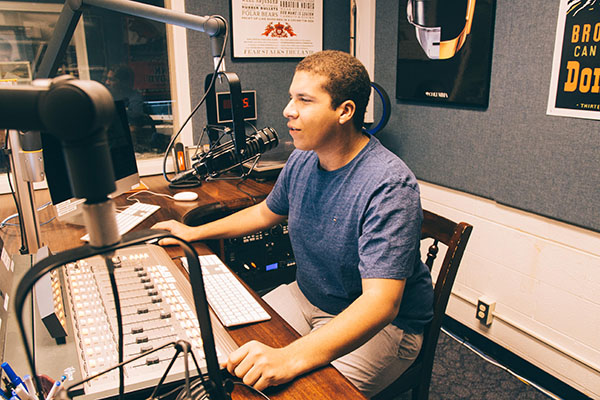 As a member of both WGBK and GBS TV, senior Manny Martinez is a familiar voice at South for his recurring appearances in morning announcements and for his frequent radio shows. According to Martinez, his work in broadcasting has achieved success and has been recognized outside of GBS.
Last year, at the Illinois High School Association (IHSA) Journalism Sectionals, Martinez obtained first place for the Broadcast News competition. He then won third place at state a week later. According to Julie Benca, director of television and film, Martinez's achievements thus far at South can be credited to his positive and open minded attitude that he consistently radiates to his peers and teachers.
"I really encouraged him to be on camera as much as possible [as well as] [give] him side projects to work on where he's producing news stories," Benca said. "It's fun working with Manny since he's so positive and open to suggestions and feedback. He has always had such a good attitude that I really enjoy working with."
For WGBK, Martinez works as a news and sports director and hosts shows such as Columbian Clubhouse, which discusses topics surrounding Major League Baseball, and Saturday Sports Live. According to Martinez, running these shows are fun ways to incorporate doing something he loves while being in school.
"[As the director], I am in charge of how the class runs, the way people write their packages on athletes and the [happenings] outside of school," Martinez said. "I also run [shows] with five other guys, so it's a fun way to collaborate while having fun doing something that you like doing while at school."
Senior Doug Wattley has worked alongside Martinez with WGBK ever since his freshman year. Through producing shows and talking through games together, Wattley has noticed Martinez's natural ability on air.
"Manny is very dedicated, he's always known that he wanted to be in media and so I get inspired by his want to do it," Wattley said.
Ever since taking intro level broadcasting classes, Martinez says he was intrigued by the atmosphere that students themselves created in the broadcasting room. From advising shows to being on air, Martinez found what he really loves to do in broadcasting.
"News is really my passion because that's more fast paced, and I like the intensity of it," Martinez said. "Lately, I've had more of a news focus in the broadcasting that I want to do."
Benca recognized Martinez's passion for broadcasting after witnessing his courage and determination in class. Not only have his projects improved, but his confidence in speaking with others have shaped his ambitions Benca says.
"He's really become more comfortable and figured out his persona," Benca said. "He's definitely taken a leadership role his senior year in the program and the projects that he pursues."
Radio Adviser Dr. Dan Oswald acknowledges Martinez's strengths as he continues to improve as a student as well as an aspiring news anchor.
"Manny has become much more proficient with storytelling," Oswald said. "Manny has worked to master the basics of radio and has honed his own skills both in technicality and in terms of his writing and performance. He's definitely developing his own style, which is key in an industry that looks for [uniqueness]."
As well as focusing on his successes, Martinez acknowledges the difficulties that he faces being on camera. According to Martinez, planning is vital in order to ensure composure when presenting to audiences.
"Planning something that you'll enjoy while thinking about [something] your audience will enjoy at the same time is the most difficult part of [being on-air]," Martinez said.
Despite the difficult work that may accompany this type of work, Wattley says that working alongside Martinez has been entertaining throughout the four years they have worked together in radio.
"We always have fun when we're together," Wattley said. "We know [each other's personalities], so I feel like whenever we work together, we do a good job doing it."