Fiddler on the Roof challenges traditions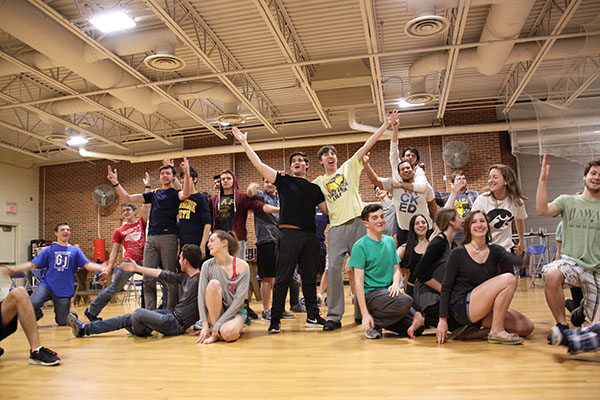 Tradition: whether it is holding onto old family rituals or formulating practices for new generations to come, each are common threads holding many families together. This struggle of holding onto the old, but seeking the new is one of the various underlying themes portrayed in this year's Glenbrook Musical, Fiddler on the Roof, showing at South's Norman E. Watson auditorium April 26- 29, according to senior Ethan Reiss.
Senior Aidan Dempsey plays Lazar Wolf. He explained that this overarching theme of tradition and clinging to old beliefs is something that his character portrays throughout the course of the show. He added that the tradition of arranged marriage plays a crucial role in the plot, as the show takes place in pre-revolutionary Russia, specifically a small Orthodox Jewish community named Anatevka.
"[Lazar] is the wealthiest man in town, and he wants to marry […] Tzeitel," Dempsky said. "[Arranged marriage] is kind of a tradition [during this time period] […], but Tzeitel wants to marry for love [not tradition's sake], and Lazar is kind of like 'what, that's terrible'[…] so that's kind of the role of Lazar Wolf: showing that traditional way of living that is then broken."
In contrast to Lazar's belief of maintaining traditions, such as arranged marriage, Reiss explained that his character, Perchik, stands for just the opposite. Reiss explained that he plays the husband of Tevia's second daughter, Hodel, and in many ways is an outsider as he is not from Anatevka. Reiss added that Perchik works to counter some character's, such as Lazar's, more traditional views of society by standing up for new ideas and beliefs, some of which being related to socialism and communism.
"[In the musical, my character] is very passionate about socialism, communism and equality," Reiss said. "I think that [Perchik] really stands for not giving up in what you believe in and not necessarily accepting tradition for what it is."
According to Reiss, he sees many similarities between himself and Perchik, which he believes has allowed him to better portray his character in the musical. Reiss explained that like Perchik, he has an interest in the history of communism and socialism. He also  sees some parallels in Perchik's frustration with his government during the pre revolutionary era, and some Americans' frustration with our government today.
"[Playing Perchik] has kind of given me the opportunity to explore how people must have been feeling [prior to the Russian Revolution], and what it must have been like to feel frustrated with the government," Reiss said. "I think a lot of people these days feel a sense of frustration with the government or the world around them or certain institutions and the way they are. [Perchik] channels that frustration and passion of wanting to make a difference."
Like Reiss, senior Jordan Zelvin has also connected with her character in the musical, Yenta. Yenta, the town's matchmaker, plays a very maternal role in the town as she does not have children of her own. Zelvin added that she can also connect to Yenta and the roots of the musical at a deeper level through her Jewish faith, as much of the show is centered around the traditions and practices of Judaism.
"My family actually came over from Russia around the time [the musical] takes place, so Fiddler on the Roof is not the story per se of my family, but certainly [my family's] story is not that different from this," Zelvin said. "It's very powerful [for me] to be a part of this show."
In addition, Zelvin explained how, as a cast, one of the most crucial first steps in the rehearsal process was to really understand both the culture and mindset of both Jews and Russians during the time period of the musical. According to Zelvin this understanding was translated to the cast in many different ways ranging from cultural lessons to even guest speakers.
"Our directors have been very adamant in reminding us of the setting of this musical," Zelvin said. "We had a Rabbi come in, which actually happened to be my Rabbi, to talk to us and tell us about the traditions of that time and how they differ from Jewish traditions now a days, and the differences between the traditions in this Jewish settlement versus in a Kibbutz in Israel. [As a cast], we definitely learned a lot about the culture and the historical context of the show."
Senior Yael Sheinfeld plays Tevia's wife, Golde. She added that this overarching presence of tradition is something that has contributed to her experience in Fiddler on the Roof  largely as this is her fourth and final Glenbrook Musical. Sheinfeld explained that while each show put on every year is special, this year's is especially unique to her.
"This is kind of a funny show for me because at my middle school they did [Fiddler on the Roof] when I was in fourth grade, which was the year before I could be in musical," Sheinfeld said. "I kind of idolized and looked up to this show as something that I wanted to be able to do when I got older, so it's kind of funny that I'm [in] this show my senior year now […].It's kind of come full circle."
For Reiss, this too is his fourth and final Glenbrook Musical. While he explained that he is sad to let go of one of his personal yearly traditions at South, he is hopeful that in his final musical performance he is able to help convey to the audience the importance of acceptance and understanding that Fiddler on the Roof  has to offer.
"I think [one of the biggest takeaways] from the show is acceptance," Reiss said. "I think this show is about understanding other cultures and not being afraid to step into other cultures, and even change your own culture, which is what [Perchik] does. By understanding people, that is how conflicts can be avoided, such as the [conflict] that exiled all of the Jews [in the show] from their homes."