AP Art show celebrates senior AP art students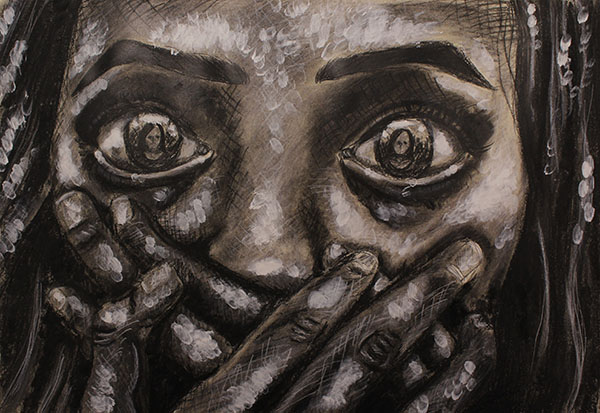 For an entire year, AP Art students have planned, sketched, drawn, painted, sculpted and perfected, waiting for the week of the AP Art show. This show will be running the week of April 24 in the Student Activity Center, and it highlights the year-long accomplishments of AP Art students.
According to Stephanie Fuja, AP Art teacher, the show allows  students to show off their year-long work. The pieces shown are students' accumulations of work that will be submitted to the College Board for scoring.
"All year [AP Art students] work on 12 pieces each, it's called a concentration, and then during the show, they display their 12 works," Fuja said. "[AP Art Students] don't have an [AP] exam, their exam is their work that they send out to College Board for judging. A score of 1-5, 5 being the highest, 1 being the lowest."
According to senior Dasha German, AP Art Student, though not all students taking the class will be pursuing art after high school, the exhibit benefits the entire GBS community. The exhibit helps bring attention and recognition to the artists.
"To have a show that really showcases the amount of work and effort that [students] put in all year is really validating and it gives you a lot of pride," German said. "[…] Everyone needs that self confidence boost every once in awhile. […] I think people at our school definitely like to celebrate each other so it gives people an opportunity to see that and what goes on in our school."
According to Fuja, the opening night of the show is always an exciting time for students. She explains that seeing all of their hard work pay off is a rewarding experience.
"For the students involved in the show, it always ends up being a really emotional night of the opening reception for the show," Fuja said. "It's like their whole year and all of the hard work that they put into their pieces and kind of coming to an end and seeing it all up and displayed in a really formal art reception way."
According to senior Kimberly Campo, AP Art Student, this show is unlike others that students may have been a part of. It is a more personal experience for the artists.
"Compared to other art shows where you have a piece or two displayed and you're just a name, rather than  in the AP Art Show, there's the person right there, it's not just their name," Campo said. "It's their [own] entire section, their entire year, their hard work and effort put into this. All year and then it's displayed for everyone to see. It's something bigger than what we've had before and I'm really glad I get to be a part of it."
For German, after working on the same collection of pieces all year, the show brings many strong feelings.
"When you spend all year […] in AP Art [working] on these […] 12 pieces, you're just so done by the end of it, but still so proud of your work," German said. "Seeing it in a show that's meant just for you and your one class of about 16 people, it brings a larger sense of pride and everyone feels so accomplished and we're all supporting each other."
According to senior Hana Mohammed Raffee, AP Art Student, some students have been working towards this show since their freshman year. It represents a milestone for seniors, similar to prom or graduation.
"You've earned it," Raffee said. "It's not just this year that you've worked on it. It's the past four years, for some people it's the past 15 years. I think that all we have done in the past has led up to one of these moments. And it's not going to be the last moment you have in art, but it's a big one."