Zelvin finds her home under spotlight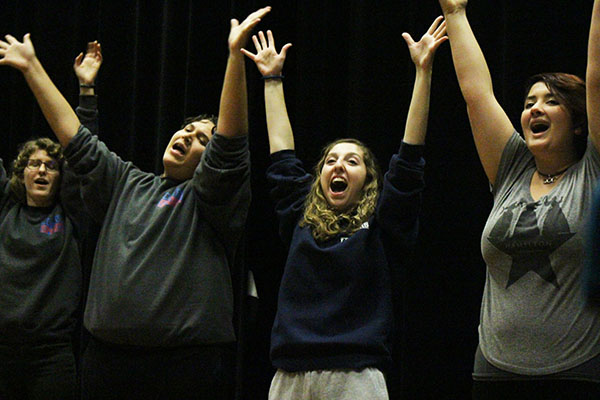 The red velvet curtains open across the stage, and the chatter of the audience begins to die down as the sparkling spotlights shine on senior Jordan Zelvin.
Zelvin has been seen on stage as a member of Comedy Sportz, Spur of the Moment, musicals, plays and more. Zelvin is also the president of Drama Club. According to Zelvin, her first experiences in theater started in Showbiz Kidz and the Glenview Children's Theater at the Glenview Park Center.
"[I joined theater because] my mom decided I was too rambunctious, and I needed some place to channel all my energy," Zelvin said.
According to Zelvin, she loved her theater group; however, she found her true passion and knack for drama when entering South. As a result, Zelvin auditioned for the 2013 fall play, Flowers for Algernon.
"I made [the play], and I just fell in love with not only the show and being in the theater, but I loved the community and the people," Zelvin said.
Throughout her following years of high school, Zelvin continued to participate in opportunities to act on stage. Although many actors have stage fright before performing, she makes sure to relax and calm down the rest of her cast. According to Zelvin, she always wants to connect to the audience during her performances to relieve any doubts or fears in her mind.
"The second I walk on stage, I become the character, and I feed off the energy from the audience," Zelvin said. "I feel like having an audience there actually enhances our performance because we have energy to build off of."
According to Zelvin, she looks at acting as a form of playing as she is pretending to be a character like when she was a child. However, she still tries to find the seriousness of theater as she looks through the perspective of her character.
"[Acting] gives me the chance to look at the world through a different set of eyes and a different lens of the character you're playing," Zelvin said.
According to Zelvin, during each performance, she always puts in her best effort to capture her audience and create a memorable show. According to Drama teacher Beth Ann Barber, Zelvin has expressed her talent on stage and in drama class ever since her freshman year.
"Zelvin gives 100 percent in everything that she does," Barber said. "She is so creative and talented. She is invested, has incredible insight to each character [and] commits completely to everything that she does."
According to Zelvin, rehearsing with the cast and preparing for show night is her favorite part of every performance.
"When being in a show with other people, […] you work together to create something beautiful," Zelvin said. "It's the journey of getting to that point that I love. I love the rehearsal process and the very last rehearsal before opening night because that's when everything starts coming together, and I see how beautiful [the play] is that we all worked together to build."
Zelvin has participated in multiple performances throughout her entire high school experience; however, she remembers her favorite show was her freshman year winter play, Circle Mirror Transformation. According to Zelvin, because the play had such a small cast, she had the opportunity to develop a strong and trusting relationship with her peers.
"[The cast and I] were a family and even now, four years later, they're still my best friends, and I talk to them everyday," Zelvin said. "I will never have an experience in a show like that ever again because it was just so unique and special."
Although Zelvin says she does not plan on becoming a professional actress in her future, she does want to combine her passion for theater with her interest in social justice. For example, one of her goals includes owning a non-profit theater to donate money to charities that can provide children with performing arts opportunities.
"[Theater is] one of the most beautiful things in the world," Zelvin said. "It brings people so much joy, and it brings me so much joy. I honestly don't have words to express how much I love performing and how much I love watching others perform."