Students pursue elective courses, spark career endeavors for after high school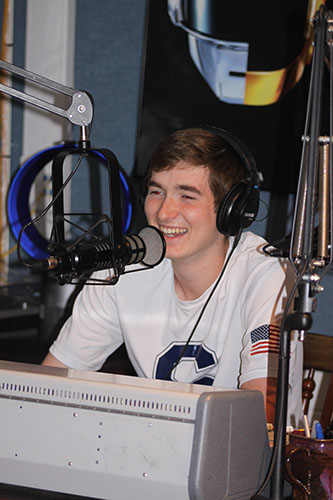 English, math, science, repeat. While attending high school, it may seem necessary to get involved in more than South's core academics. According to an unscientific Oracle-conducted survey,  for some, the sole reason they wake up is to attend their elective course.
Glenbrook South offers around 80 elective courses, ranging from horticulture to television. According to senior Taylor Raschillo, she's been pursuing art since a young age and has been accepted to the art school of her dreams, Parsons School of Design in New York City. Raschillo looks to pursue her fervor for fashion.
"I've always been interested in [art] […] I liked having classes built into my schedule that I am genuinely interested in," Raschillo said.
Reaching her ultimate goal of being admitted to Parsons didn't come without its hardships, according to Raschillo.
"This entire year I had to compromise my academics for finishing some art related things," Raschillo said. "It […] wasn't the best choice for the class at the time, but [it has] definitely paid off."
According to Raschillo, although balancing academics and her passion has been difficult, there have been many highlights.
"I was featured in the [Illinois High School Association Exhibition] art show," Raschillo describes. "I published a photograph that I took in the studio of freshman Kirsten Sully. It was a multiple exposure shot; [pictured in] black and white photography."
Another student at South planning on pursuing their elective in the future is senior Matthew Peterson. After dedicating six semesters to radio courses, Peterson was chosen to be a Senior Sports Director.
"We manage the shows during class and after school," Peterson said.
Holding a management position has paid off for Peterson. Once his final semester of radio is complete, Peterson will be going to University of Tennessee to further his broadcasting education. According to Peterson, college is not where broadcasting will end.
"[My] Mount Everest goal here is to become the play-by-play guy for the Chicago Bears," Peterson said.
Senior Michael Sarov also aims high as he will be attending the American Academy of Dramatic Arts for stage work. Enrolling in South's drama courses helped crack a once shy teenager out of his shell.
"I liked taking drama in middle school, so I knew I wanted to do it in high school," Sarov said. "I didn't know many people but through [drama] I made a bunch of friends."
Through a friendship formed in drama class, Sarov was encouraged to take the final leap and join the school play.
"I was pushed to audition my freshman year [for the play], by my buddy Landon," Sarov explains. "We met in our Drama One class."
Participating heavily in theatre productions, Sarov made his way to become one of the presidents of Drama Club. Planning to become an actor, he is extremely grateful for the opportunity to explore his passion at South, according to Sarov.
"I am going to miss my time at South in the theatre department," Sarov said. "It really has made me the person I am [today]."