A&Eats; McDonalds
A&Eats is a review where the Oracle will feature a new restaurant each issue. Each restaurant is interesting, new and unique and is reviewed by editors.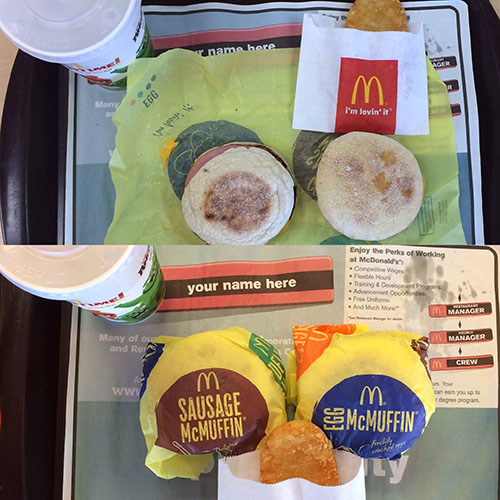 On Oct. 6, the day that McDonald's officially began it's All Day Breakfast, I knew that I had to try it out. After a few months, I finally had the chance.  
I finally got the opportunity to go  few months later. I went to the McDonald's in Plaza del Prado right after school. Walking inside the restaurant from a hot spring day, it welcomed me with its free of charge, air conditioning. Right I away I noticed the countless options of different types of food, but obviously I was there for the All Day Breakfast.
I ordered an Egg McMuffin and the Sausage McMuffin with a side of a hashbrowns and a Sprite. For vegetarians the menu also offers many other things like their famous hot cakes and delicious parfait. For the amount I received, I thought that the price was fair. The atmosphere is very joyful and filled with smiles. While waiting for the food in McDonald's, it allows you to go back to child version of yourself and enjoy McDonald's like you used to. I went to the play place and skateboarded and played the piano. Truly a fun way to spend time while waiting.
I began with the Egg McMuffin. The muffin is soft with it's easy texture so the egg overpowers it. But the muffin compliments very well with the cheese and ham. The sandwich is warm and comforts the mouth. The sausage biscuit is very simple with only three parts: sausage, cheese and muffin, but powerful in taste. And lastly the hashbrown, arguably the greatest hashbrown ever created, well, in my opinion.  All in all, after having the meal, it makes you crave more, which might make you spend another dollar.
Of course it isn't a full meal unless you get dessert. I recommend getting the classic vanilla ice cream cone. Great in taste, and great in price. I highly recommend that you go and try the new All Day Breakfast. It offers exquisite,  inexpensive food, and the best part is that you can have it whenever you want.  I  promise that you will leave with a McSmile.