Quinn expresses passion for acting, explores professional opportunities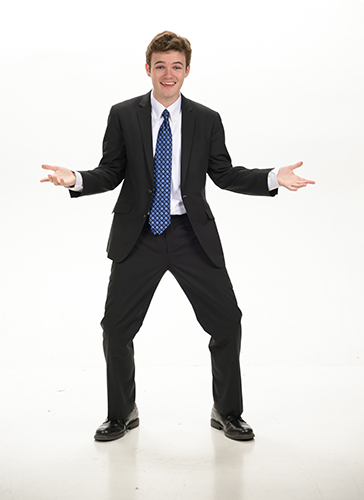 For many South students, theatre is their passion, and some venture into opportunities beyond school activities. Senior Chuck Quinn IV acts professionally outside of school and has been doing so since his childhood.
Quinn has been acting ever since he was a young child, and since then, his acting career has become increasingly important and frequent in his life. According to Quinn, this career was influenced by his father, a professional actor. Quinn's first show was set in a professional environment.
"My dad's an actor, so I watched him act professionally in a couple [of] plays," Quinn said. "I remember seeing him as King Arthur when I was 3. [For] my first show, I did the Wizard of Oz with him. He was the Cowardly Lion, and I was a munchkin. That was when I was 6."
According to Quinn, his acting career was not solely influenced by one source; rather, he was born an actor, and his love of acting has grown greatly since his childhood.
"I grew up backstage watching my dad perform on stage, get laughs, and then come backstage and hang out with everyone," Quinn said. "I got to see how the whole thing worked. I did my first show when I was in first grade, so I was on a professional stage before I knew long division."
Quinn has played various roles at South, including John Proctor in The Crucible, Big Deal in West Side Story, Professor Callahan in Legally Blonde and J. Pierrepont Finch in How to Succeed in Business Without Really Trying. Furthermore, he performs in Comedy Sportz, Chamber Singers and the Variety Show at South, according to Quinn.
Quinn reflects on his experience in the professional play, Ordinary People, he recently participated in at the Citadel Theatre in Lake Forest.
"I got to play the bully, which was a lot of fun," Quinn said. "I got to beat up the main character, learn[ed] to do some stage combat [and] work with adults — working actors — which was a great experience. It was fun kind of holding my own against people that have gone to college for acting and [also] learning from them and even teaching them things."
Quinn has worked at several companies and theaters, including the Emerald City Theater Company, Glenview Theater Guild, Up and Coming Theatre, Wilmette Park District, Apollo Theater and Citadel Theatre. Quinn says after auditions, one will not always get the part and should be prepared for rejection most of the time — a challenge that he faces in his career.
"It's unlike other careers because you face rejection far more often than you face acceptance," Quinn said. "That means that you have to have another job to support it; you have to either wait tables or have another career that you're interested in. But also, when you go into an audition, you can't hope for a part; you can't get attached to the work that you did."
According to Quinn, he has faced rejection multiple times in his acting career since he was a young child.
"I auditioned for a McDonald's commercial when I was really young," Quinn said. "I was supposed to be fighting off bad guys with a little Pirates of the Caribbean figurine. I didn't get the job though because I was 6 or 7 and they told me to fight off the bad guys with the toy. They meant use the button on the side to make him swing his sword. I didn't realize that there was a button, so I used it as a weapon, and I just started smashing invisible bad guys."
Quinn says he has an agent who helps him find auditions and manages his career. One of the other auditions he participated in when he was younger was for a Nike commercial.
According to Quinn, he intends to pursue an acting career in the future after graduation and hopes to get involved with improv, commercials, film and theater.
"I'm taking improv classes downtown right now, so I'm hoping to pursue that professionally in the next couple [of] years," Quinn said. "It's interesting [because] I'm 17, but everyone else is well into their late 20s. So it's a very interesting vibe hanging out with them. It's very strange, but I've always liked working with older people because you can learn a lot more from them."
Drama teacher John Knight claims that there are limited acting opportunities given to students at the high school level. According to Knight, only a few students act professionally because there are not many opportunities for teenagers to play roles, as most of the parts are offered to adults. Knight feels that these professional acting opportunities are beneficial for the future.
"Any opportunity that a student has to do some sort of acting is a good experience — whether it's in school, in a class, or in a professional setting," Knight said. "Whether you get money for it or not, it's a great experience."