Battle of the Bands unveils new talents, supports charity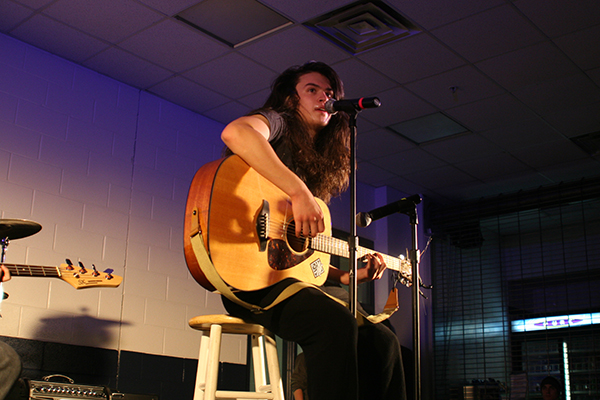 Battle of the Bands, hosted by Interact Club on Dec. 4, raised over $700 for Saint Philip's meal kitchens. The annual event provided an opportunity for South students to rock out to music performed by their peers.
According to Interact Treasurer Jake Bertog, Interact runs the ins and outs of the battle and several other tasks needed in order for it to run smoothly.
"[For] pretty much all of the [other] events that we participate in, we are working with another organization that provides most of the utilities that we need for the event," Bertog said. "This event is special because the leaders need to put in a lot more work to reserve the cafeteria, get all the microphones […] and contact [performers] to make sure that they are all coming. It's, overall, a pretty big event for us to run because we need to do it from the ground up."
According to Interact President Sydney DeHorn, one thing that makes the battle enjoyable is that the students discover something new about their peers and are able to discover new sides of their friends.
"I think what makes this event special is that there are a lot of people in this school that you might not know are musically talented, and I think that [Battle of the Bands] is a really great opportunity to see their talents," DeHorn said.
One band that took the stage was Hometown Rivals. Junior Alec Sanchez, the band's vocalist, says that this was his first time performing at Battle of the Bands and that he had never performed on stage prior to the occasion. Sanchez says junior Sammy Cowhey, the band's bass guitarist, motivated him to perform.
"[Cowhey] was pushing for [me to play] the entire time," Sanchez said. "I started off [telling Cowhey], 'I don't know man; I'm really nervous,' but I'm really glad I [performed]."
Like Sanchez, junior Jack Whetstone sang on stage for the first time at Battle of the Bands. According to Whetstone, he did not intend to perform, but at the event, sophomore Will Okuno asked Whetstone and two others to sing "Car Radio" by Twenty One Pilots while he played the keyboard.
"I wanted to be able to say, 'I went up on stage and I [performed],'" Whetstone said.
Senior Eli Joseph had prior experience performing in Battle of the Bands. This year he played guitar for four acts: Zeitgeist, Paisley, Hometown Rivals and Rage Against the Machine.
According to Joseph, he feeds off of the energy that the audience gives out when performing.
"When people cheer for you and root for you to play, it gets [you] really pumped [and] really energized," Joseph said. "I like playing and having the crowd respond."
During his act covering Rage Against the Machine's "Bulls on Parade," Joseph was faced with an obstacle that threatened the performance. However, despite the sudden falter, he was able to recover.
"I took my slide and started banging it against my guitar, and then the string snapped," Joseph said. "I thought it was really cool, but then I was like, 'Oh, how am I going to finish the song?' But we pulled through."
Senior Bridget Fogarty performed with the band Bilbo's Last Song. The band took the stage for the closing act and performed "Closing Time" by Semisonic.
Fogarty says that she admires how Interact was able to unite the school for a good cause.
"I think it's really cool that so many people come together to hear all the talent that we have at South and [that] we are able to come together through Interact," Fogarty said. "I think it's great to have a good time for a good cause."
After all the bands performed, those in attendance voted on a winner from the battle. Band X, consisting of freshman Jack Sundstrom, bass guitarist; sophomore Jack Quinones, lead guitarist; freshman Amil Dravid, drummer; and senior Adam Ley, keyboardist, won first place for their performance of Rush's "YYZ."
Both Sundstrom and Quinones express that they did not expect to win because three members of their band are underclassmen, but they were happy with the outcome.
"[Battle of the Bands] was really fun for me because I don't really get that many opportunities to perform," Quinones said. "It was really unexpected for [our band] to win, so that was just really a pleasant surprise."