Rubik's Cube Club fulfills passion for puzzles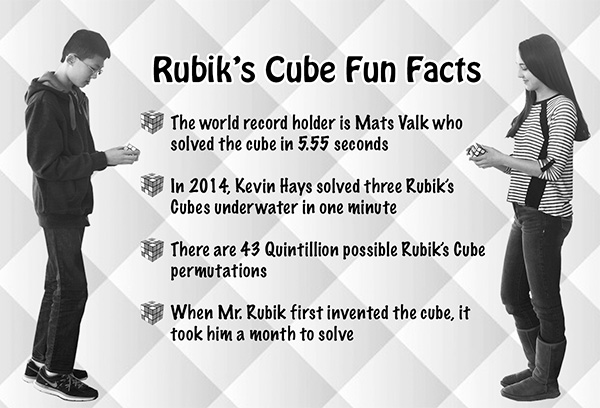 The current world record for the fastest time to solve the Rubik's Cube is 5.55 seconds. This feat does not come without practice. The Rubik's Cube Club is South's newest club that shows members the strategies and algorithms that will help them solve the cube. The club members will  soon be able to solve it on their own and take part in competitions against the other players.
Club founder sophomore Michelle Omega was inspired to start it after seeing a video of one of her classmates solve the cube with incredible speed. Omega believes that a common misconception about the cube is that it is almost impossible to solve, but she argues that it is actually very simple with practice.
"Everyone thinks it is impossible, but it is really easy actually," Omega said. "I taught my mom, my sister and my dad how to do it, and it was pretty simple."
Meetings are held Tuesdays after school in room 269 for the next six weeks. Each week, members will attack a new part of the cube. Sponsor Gabrielle Mikos also previously believed that there was not a method to solving the cube. However, after the first meeting, she agreed that there are methods, procedures and skills involved.
"Every week, we are going to be tackling the Rubik's Cube and showing strategies and algorithms to be able to solve it," Mikos said. "I didn't even know there were strategies. I thought it was just all luck. Now I'm watching it and thinking that everybody can do it."
Mikos added that the students have taken on the role of the teacher in the club, and that it is really something special to see. She explains that this is what she loves about sponsoring multiple clubs at South.
"That's the great part about Glenbrook South," Mikos said. "We have a club for everything. I think it's nice, because it's not a huge commitment compared to other clubs. […] It's just something fun for the students to learn."
Omega believes that attending the club has an impact on its members that is far beyond just learning how to solve the Rubik's Cube. It also helps with certain critical thinking concepts in math and overall performance in school, she said.
"You have to think about the 3D space," Omega said. "It was really hard for me at first, because I just couldn't grasp it. It also helps in math because there are patterns that help with problem-solving."
According to Omega, the most exciting part about learning how to solve the Rubik's Cube is competing with other players and trying to solve it as fast as possible. This is the overall goal of the club.
"After we learn [to solve the cube], which will only take two meetings, we are just going to have competitions and races," Omega said.
Mikos is already thinking about the future of the club, hoping that if all goes well it will be able to continue next year and attract even more members.
"If this goes well and they're interested, then we can do another one next year for six weeks and kind of make it a thing every semester and teach more people how to solve the Rubik's Cube," she said.
Not only is this a chance for students to show off a new skill, but Mikos hopes that the club will provide students with the opportunity to meet new people that share similar interests as them. She believes that it is important for students to branch out of their own friend group and make new friends.
"Joining clubs in general is a great way to meet other people that normally just aren't in your group of friends," Mikos said. "If people make a few new friends and have a few new contacts, then that would be wonderful."