The Accountants strive to find musical identity by performing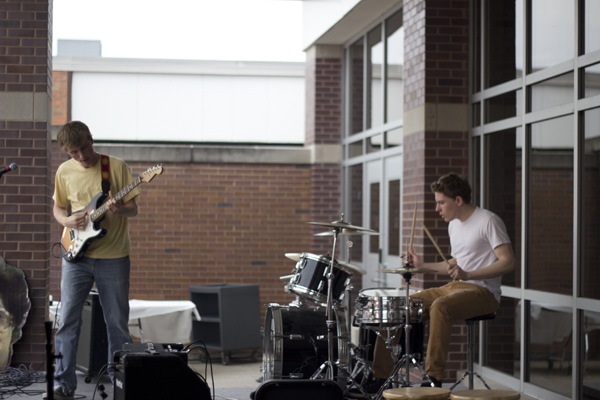 The intense sound of distorted guitars blasts through the Marshall amplifiers on stage accompanied by a heavy drum beat keeping the time and filling in the empty space. Melodic vocals cut through the sound, causing the crowd to settle down and become captivated by the alternative-rock. The two musicians on stage, seniors Paul Tisch and Chris Neuhaus of the band The Accountants, move with the time of the music, and soon the crowd begins to join them.
Since their recent start, the band has been seen playing at various events around South including Jamnesty, Paradox and Battle of the Bands, as well as at local venues. More recently, the band made an appearance at the school-sponsored event Spring Fling, playing a ten- minute set comprised of three original songs, all written by Tisch. The songs are entitled "Cold", "Dream" and "This Song".
The band first formed last year when they auditioned for Jamnesty, a concert run by South's Stand for Peace and Amnesty. Considering that the two were already friends, they decided to take their similar interest in music and make a band out of it.
"Paul and I were in the same friend group, or I guess clique in high school, and we kind of talked about jamming a little bit," Neuhaus said. "We did from time to time. Then eventually Paul just called me up and wanted to do a song for Jamnesty."
When the two first started collaborating musically, they soon realized that they had very different tastes in music. They came to appreciate each other's preferences and came to like them. According to Neuhaus, this is essential to forming a band, because collaboration is key.
"I actually hated Paul's music when he first showed it to me, not the music that he plays, but the music that he listens to," Neuhaus said. "Now I'm starting to get an ear for it. It still takes me a while."
After making an appearance at Jamnesty, the next step was to decide on a band name. Tisch explained that the background behind the name is random and does not really have any significance.
"We were on a German field trip and we were sitting next to each other on the bus, and we were kind of just reading signs out loud and there was one that said 'Accountants' and then I was like, 'Hey, that should be our band name,'" Tisch said.
Once this was decided, they needed to establish their own sound. According to both of them, their music is pulled from many different influences. As a result, the group is unable to label the music they produce as having one particular sound.
"We are still trying to figure out what kind of music we make exactly," Tisch said.
As for the future, the band plans on figuring out their signature style. The Accountants are currently working on their senior project and have decided to release an album.
"We are going to, for two weeks, record, mix and try to master an EP in Chris's basement," Tisch said.
After the EP is released they hope to get some publicity. They have taken a step in that direction with the recent show they played at restaurant and venue, Township, in Chicago. According to Neuhaus, this is the first real gig that the band has played together.
"We felt really honored to play there," Neuhaus said. "We only had a 30 minute set, but a week before we had to play we only had a 15 minute set. We actually had to double that in a week's worth of time, which was awesome because it was kind of like crunch time and we put together four new songs."
The band is optimistic about the summer that they have ahead of them because they hope to play many shows and gain support.
"Our plan right now, what we want to do, is obviously over the summer we are going to try and practice as much as we can and try to produce as much material as we can," Neuhaus said. "Not necessarily to get famous, but maybe just to get our music out there. Just have something to show for how much time we have put into this band."
The band currently has two members, but they hope to add another member, probably a bass player, in the future. According to Tisch, this will help to produce a fuller sound and take some weight off of his shoulders.
"Just on the guitar end of it, that's the only instrument playing," Tisch said. "I have to cover the low-end that a bass would provide and then keep something interesting up top. I constantly have to play because I can't just stop for a little bit and let another guitar or bass take over."
As a fan and friend of the band, senior Nick Moses helps them to finds gigs in the area. He hopes that they will have the opportunity to play together in the near future because he sees a lot of potential in the Accountants.
"Now we are both in our own separate bands, but I've listened to their band, and I've listened to a few of their songs," Moses said. "And so I am trying to get them to come play shows with my band […] because I really hate [that there are] really good bands who don't get to play a lot of shows."
Attending colleges in the fall will be difficult for the band considering the distance between them. Neuhaus will be attending Marquette University in the fall and Tisch the University of Illinois. However, they hope to continue producing music together when they return home.
"We have already talked about trying to play together when we come back for breaks," Tisch said. "We are not really that close, but I'm sure we'll find time to practice together."