Fall play puts new spin on age-old themes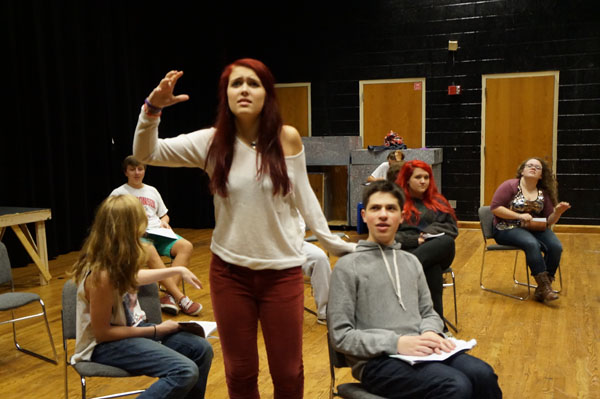 No scenery, no props, no costumes. The only items on the stage are the actors and the deep, universal emotions that fill every moment of their characters' lives from birth until death.
This year's fall play, Our Town, follows the story of two neighbors, Emily Webb and George Gibbs, as they deal with the many trials and tribulations of the human life in the small town of Grovers Corner, New Hampshire.
According to director John Knight, the play is divided into three acts that focus on essential themes of life: growing up, love and marriage, and death.
"[The play] is meant to encapsulate the entire human experience and kind of celebrate and look at all the parts of life," Knight said. "No matter what happens, we need to move on."
Senior Allie Kahan plays Emily Webb, one of the lead roles.
"[Our Town] mainly follows the story of Emily Webb, […] her family, and her next door neighbors, who have a boy whom with she ends up falling in love," Kahan said. "She is really smart and really bright, and I think she just wants to succeed and wants everyone around her to be happy."
Freshman Chuck Quinn plays the male lead and Kahan's love interest, Emily's next-door neighbor, George Gibbs.
"George is a passionate, well-intentioned and good-hearted guy, though he's a bit oblivious at times," Quinn said. "He plays baseball and grows up to be a farmer. [He] is really just your average guy. I like to think of him as an energetic Forrest Gump."
As a newcomer, Quinn was honored to be chosen as a lead his first year at South.
"When I first saw my name on the call board, I thought it was a misprint," Quinn said. "Even when I was at callbacks for the part, I had picked out three other guys who I thought were going to get [the part]. I really just wanted to be involved with the play somehow. I did that; everything else is icing on the cake."
According to junior Zack Bauer, who plays the town's milkman, the play's seating arrangement allows a closer, more personal interaction between the actors and the audience.
"It's kind of a new idea to have the audience on stage with us," Bauer said. "It's going to be a very intimate play, like the spring play last year where the audience [was] on stage with the actors in the middle, except this year is going to be a little different, [having the audience on] three sides instead of two. I think it's going to be really cool to see the reactions of everyone watching."
Another change will be the modernization of the performance, according to Knight. In order to duplicate the original relatable feeling that the audience felt while watching the early performances of Our Town, the actors will not wear any costumes.
"[The play] deals with universal human themes that are still with us today – life, and love, and death," Knight said. "If we [looked] at it from a modern perspective, I thought we could still see how it related to us. Our Town will literally be like our town, like Glenview, in modern day."
According to Knight, Our Town also lacks props and scenery, making it unique in comparison to most plays of its time.
"It was one of the first plays where people were not used to seeing no scenery," Knight said. "You were not ever going to get caught up in the fact that you were watching a recreation of life. All of these things are common today, but at the time it was kind of revolutionary and avant-garde, and that's why it is so enduring."
Due to the lack of scenery, Knight plans on spending more time rehearsing the realism of the cast's emotional portrayal and less time on blocking and movement.
"[It is my job to] help them analyze the roles," Knight said. "I help them figure out how to play the roles and make them their own. […] Really looking at the realistic, deep emotions is going to take a long time."
According to Bauer, the play's relatable and emotional plot allows the audience to take away something much more than just entertainment.
"There are a lot of life lessons you can learn," Bauer said. "Live life in the now. Do not think about the future or the past. You have to love life to live life, and live life to love life and live it to the fullest."
About the Contributor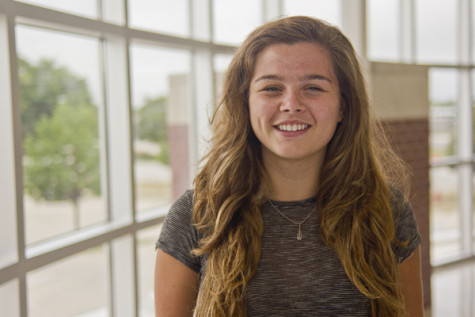 Kali Croke, Co-A&E Editor
Kali has been writing on The Oracle since the fall of 2012 and is currently the co-editor for A&E. She is a member of the student council as president...