Mungo mixes genres to create distinct sound
Last year, five freshmen brought their passions for music together and formed the band Mungo, which is now a South sophomore band. The band members include lead singer Janna Lyhus, drummer Chris "Bear Claw" Neuhaus, bassist Daniel "Lando" Landgren, and guitarists Izzy Fradin and Cole Hamilton.
According to Hamilton, the band members chose the name Mungo out of a list of 20 strange English words.
"One thing you should know about the word 'Mungo' is that it means someone who finds treasure from trash, and that's just what we are," Hamilton said. "We were a band that started from nothing, and now we're writing our own songs, starting to record and finding so many more opportunities."
Mungo's style integrates all of the members' personal styles in order to create a unique blend of music.
"Chris, Daniel and I really like classic rock, and Janna and Izzy like a lot of softer music which is more laid back," Hamilton said. "So we incorporate a lot of those styles in our music."
So far the band has played covers at South's Battle of the Bands, Grandpa's, CJ Arthur's, Sheridan Shore Yacht Club, Tall Trees, Jamnesty, Spring Fling and house parties.
Mungo, whose sound ranges from indie and punk to classic rock, has recently begun writing their own music, getting inspiration from other artists.
"I can't point to any one band to identify our style, but we like Arctic Monkeys, Grouplove, Led Zeppelin, Phoenix, Three Door Cinema Club, Florence and the Machine, Passenger, Bon Iver [and] Horsefeathers," Lyhus said. "We like a variety of music."
According to Lyhus, the song-writing process involves the natural flow of ideas.
"We have this notebook, and I made a list of random thoughts," Lyhus said. "And then all of a sudden it just transformed into a song."
Lyhus described the need for the members to invest themselves in the band.
"You need to have the trust of the people you create with," Lyhus said. "What I love about Mungo is that we have this trust and offering ideas isn't uncomfortable, but completely natural."
Anne Neuhaus, Chris's mother, lends her basement for Mungo's weekly practices and writing sessions. She enjoys being involved and sees the band developing and becoming very successful.
"They definitely have their own style going, and with more of their own music to perform, I think the sky's the limit," Anne said. "I'm hoping to see them perform a sold-out concert at Soldier Field."
According to Fradin, performing only feels right when there are friends present in the audience.
"At one of our shows [that] we had at [the restaurant] Flight, not a lot of our friends showed up, and it didn't feel the same," Fradin said. "But at Jamnesty, a lot of our friends were there, and it was such a different energy. It was so much more fun to play knowing that people were there specifically to listen to you."
The group aims to keep playing and develop their sound, and although they did not make it into the V-show this year, they hope to land an act next year.
According to Anne, Mungo has many more gigs lined up for them soon, including a performance at Hackney's June 9 and the olympic trial send-off rally for junior Olivia Smoliga in Gallery Park on June 16.
Anne encourages everyone to keep an eye out for posters around town regarding dates for performances at Grandpa's and CJ Arthur's this summer.
About the Contributor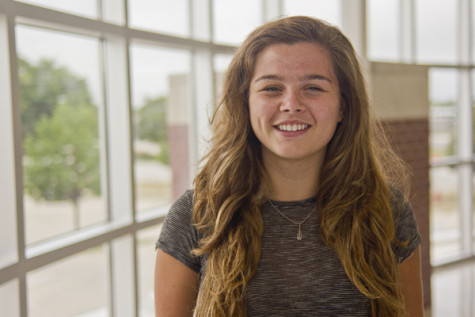 Kali Croke, Co-A&E Editor
Kali has been writing on The Oracle since the fall of 2012 and is currently the co-editor for A&E. She is a member of the student council as president...