MUN Leaders Publish Article in Imagine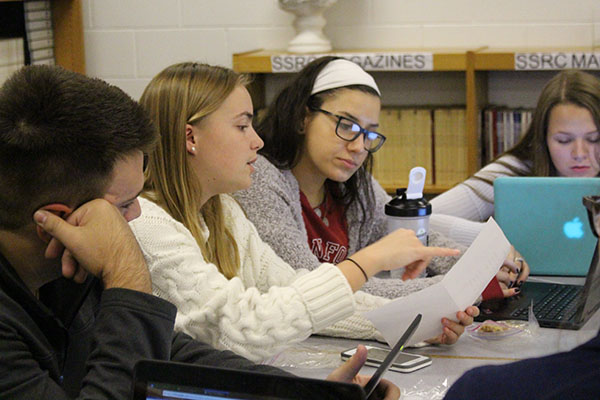 An article written by seniors Yoana Sidzhimova and Lori Steffel about GBS Model United Nations (MUN) was published in the Sept.-Oct. issue of The Johns Hopkins Center for Talented Youth's magazine, Imagine.
According to Imagine's website, the magazine's purpose is to allow students to explore topics such as science, art and humanities through themed issues and writing by both college and high school students. The theme of the Sept.-Oct. issue was Politics and International Relations. Melissa Hartman, editor-in-chief of Imagine, explains the reason behind why she chose South students to write the article.
"We've covered [MUN] over the years and know what a great program it is, so I went looking for one of the best teams in the country," Hartman said. "I landed on […] Best Delegate and I was able to learn a lot about [GBS's team]. I could see that [they] went to a lot of conferences, won a lot of awards, […] so I thought there was a good chance there might be students who […] would be able to write about their experience."
Hartman reached out to MUN Sponsor Terrence Jozwik in June, asking if any GBS students wanted to write the article. Jozwik chose the president and vice president of the team, Sidzhimova and Steffel, respectively.
"[Yoana and Lori have] been wonderfully successful at MUN for the last couple of years, and I knew they'd lead the team as seniors, so I thought both of them would be able to [answer Hartman's] questions," Jozwik said.
Sidzhimova and Steffel worked closely with Hartman during the summer in order to complete the article in time for the issue. Originally unsure of what the article was supposed to be about, Sidzhimova says Hartman clarified that the article should include an explanation of MUN and their personal experiences in the program.
"We spent a couple months working on it," Steffel said. "We would write a draft, send it in and then [Hartman] would give us some feedback and send it back to us. We would fix it and we just went through this editing and review process, […] but we really worked on making it concise and something that was ready to be published."
According to Hartman, Sidzhimova and Steffel did well despite the fact they  had to combine their voices into one article.
"They both came through on the article," Hartman said. "As far as work ethic goes, I'm not exaggerating to say it's an editor's dream. [… I would] ask questions […] and they were very responsive, very thorough, very diligent. I couldn't have worked with better writers."
After seeing the result of the article, both Sidzhimova and Steffel note that they were amazed at seeing their names in the magazine and were impressed with the way it looked.
"[Hartman] sent me a PDF of [the article] before it actually came out so I could see it," Sidzhimova said. "But then I got a package of […] Imagine magazines. [… It was] so weird to be reading it and knowing that I wrote this."
Hartman also says that she was satisfied with the result of the article.
"I'm really pleased with that article," Hartman said. "I think it deserves wide readership. […] I think it does justice to MUN. It really gives kids a real feel for what it's like to grow in the program."