Ladies look to contend for State title after competing in strong conference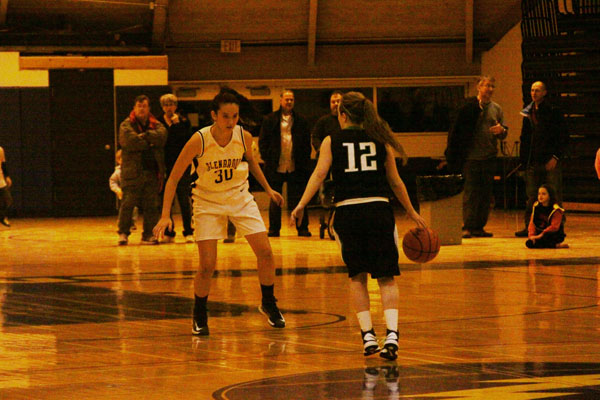 As the South women's basketball team prepares for the playoffs, they have amassed a record of 17-5. According to head coach Steve Weissenstein, the ladies have experienced a lot of success this season, but they still have the playoffs to worry about.
"We still have three weeks left in our regular season [until] the State playoffs start, and it's been a great [season]," Weissenstein said. "[State] is a long way away [and] it's going to be tough."
According to senior captain Lindsey Oldshue, the team's goal is going down State.
"Making State is [the team's] ultimate goal, especially since we were so close last year to making it," Oldshue said.
The girls hit a rough patch when they lost to Hersey early on in the season. According to senior captain Molly McDonagh, the loss was the most frustrating moment of the season.
"We didn't come ready to play, and we let [Hersey] beat us when we're so much more capable of winning," McDonagh said. "It's really important to [the team] to always feel like [we] left 100 percent on the court, and in that game none of us did."
Over winter break, they were able to see some of their State competition at the Wheaton North Christmas Tournament. McDonagh was named Most Valuable Player and the Titans placed first, defeating Wheaton North. According to Oldshue, the win was a turning point in the already successful season.
"We [won] with an average of about 23 points per game, which was quite a step for us," Oldshue said.
According to Weissenstein, the team is putting its focus into doing its best in the next six games as well as performing at a high level at Regionals and Sectionals, with the ultimate goal of winning State.
"We're a really good team, but there are a lot of obstacles in front of us before we start thinking about [going down State]," Weissenstein said.
Last season, the ladies were two games away from going downstate. According to Oldshue, the team uses last year's experience as a motivational factor as it heads into the postseason.
"As much of a bummer it was last year [to be so close], I think it's a motivational factor," Oldshue said. "We were so close, and it helped us because we know that we're good enough for State."
This year's varsity team has size and speed to their advantage. According to McDonagh, the starters' height only helps.
"Our height is a big advantage because it gives other teams a lot of trouble when they try to guard us," Mcdonagh said. "When we're on the defensive end it's a huge advantage with our 1-3-1 zone because our wing span is so long, so we really take up the whole court."
The Titans continue their season tonight with a conference game against Maine South, and begin playoffs this week.
About the Contributor
Justine Kim, Staff Writer
Justine Kim has been a sports writer for The Oracle since the fall of 2012. Justine loves sports writing because it keeps her on her toes. She loves being...