South student helps create youth computer science program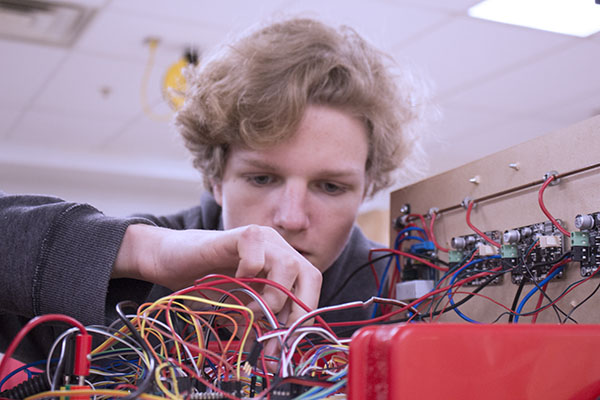 CS Upstart is a new computer science education organization created by Nicholas Ermolov, South junior, and Parker Thompson, junior at Charleston County [South Carolina] School of the Arts. The program is meant to promote problem solving and STEM learning, according to Thompson, who met Ermolov through a mutual friend at GBS.
According to Thompson, the primary purpose of CS Upstart is to make computer science accessible to everyone by providing opportunities for students who do not have the materials to try computer science. Thompson says that the program will be tested at the Charleston Digital Corridor in South Carolina during the summer of 2018.
"The primary goal of CS Upstart is to promote computer science education for all students, but especially those who don't have readily available access to the learning resources necessary," Thompson said. "Our summer camps are a pilot of the curriculum we've developed so far."
The inspiration for this initiative stemmed from a lack of education in coding and programming in the early years of education, Ermolov says. He expressed concern that many college students discount majoring in computer science due to a lack of experience in the field. Ermolov says that they started CS Upstart in December, but they started actively working on it in March.
"[Thompson] and I saw that there was simply not enough exposure to computer science before students would head off to college," Ermolov said. "We want to familiarize as many people as possible with what computer science means and [we want to] allow people to discover something they never knew they enjoy."
Ermolov says that CS Upstart is split into two different curriculums, each focused on a separate facet of computer science, while still maintaining an interactive and educational experience for students of each program. The dual curriculums are Web Development and Robotics.
"We aim to teach design through Web Development and logic through Robotics, platforms that allow students to receive visual and physical feedback," Ermolov said.
Engineering Teacher Michael Sinde, who has taught Ermolov as part of the Science and Engineering Learning Community (SELC) program, believes that Ermolov's determination and persistence are key components in the success of his project. Ermolov's interest in the subject matter increased his dedication throughout the lengthy process of creating CS Upstart.
"When [Ermolov] finds a project that he's interested in, he is 150 percent into it and sometimes that takes place in some of his desire to do the routine classwork," Sinde said. "He is very disciplined outside of class and fun to have around."
Sinde notes that Ermolov is already experienced at teaching others computer science. He mentioned several workshops held through South's engineering program in which Ermolov was able to demonstrate the ability to teach teachers, peers and younger students.
"He's run workshops where he taught middle school students how to code and program in general, so he did a great job with that," Sinde said. "I think he's great with others [and] very patient."
Sinde also says that Ermolov and Thompson are well-equipped for this endeavor. Already well-versed in the field of computer science, Sinde believes that the pair share a passion to impart their knowledge to others.
"[Ermolov and Thompson] are strong students academically, but more so than that, they're good problem solvers and good coders and ultimately want to help others learn that skill," Sinde said.
According to Thompson, the future of CS Upstart is optimistic. He says the program's format is still subject to change, but he and Ermolov are excited to spread their initiative onto a national scale. The partners are confident that CS Upstart has sufficient potential to succeed past prior expectations.
"We've filed the paperwork to form a formal non-profit organization and are currently building a board of directors and advisors," Thompson said. "Ultimately, [Ermolov] and I see a future where we can promote computer science education across the United States in and outside of the classroom."