Joshi receives Symetra Heroes Award for educational achievements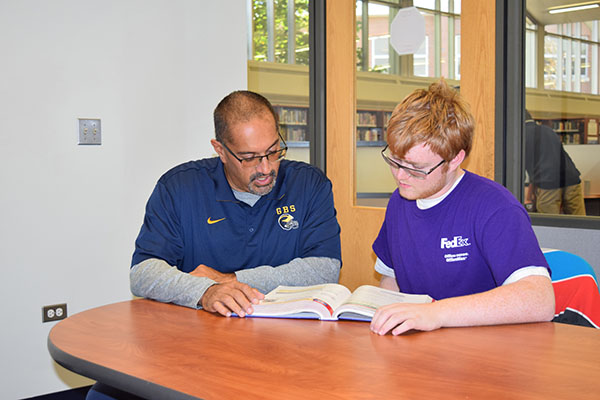 Pa'al Joshi, special education teacher at Glenbrook Off-Campus, head coach of Glenbrook United, the Special Olympics team, a Glenbrook Evening School teacher, and assistant sophomore football coach, received the Symetra Heroes in the Classroom award on Oct. 3.
The insurance company Symetra, partnered with the Chicago Bears and the Seattle Seahawks, awards the prize to nominated teachers several times a year. According to Joshi, he was one of two teachers chosen out of 16 nominees. He says that the award was extensive, including several certificates, a football autographed by Bears Quarterback Mitch Trubisky, a Bears jersey with his last name on the back, two tickets to the Oct. 9 Bears game, and a $2,000 check for the Glenbrook Off Campus facility. Joshi says that he was surprised and humbled by the award.
"We had a meeting at the Off-Campus site with the students and they surprised me," Joshi said. "I walked in and there were some people in suits, [and] I thought it was some sort of lecture about the school, but as it turned out they started talking, and next thing you know I was presented with the award. I was very surprised … [and] so humbled and honored."
According to Joshi, he was nominated for the award by School Psychologist Dr. Susan Frankel, who wrote a letter to the Bears about him.
"He's super dedicated, which is why I decided to nominate him," Frankel said. "He very much cares about the kids. He was well-deserving, and he was just very excited about winning the award too. I think, most importantly, he was very happy that he could share it with his family and his coworkers."
Megan Williams, special education teacher and assistant Special Olympics coach, believes that Joshi was absolutely deserving of the award.
"Pa'al is super dedicated," Williams said. "He does a lot for these kids when not everybody does, and I feel like he really puts his heart and soul into the Special Olympics."
Sophomore Nicky Kotsinis, a participant in the Special Olympics program, commented on Joshi's fun and interactive personality.
"I know Coach Joshi very well because he's my buddy and my coach," Kotsinis said. "He's funny, super serious, and super crazy. We play volleyball, basketball, soccer, and swimming. He took us to the movie theater and parties. He's a very good sport."
According to Joshi, he takes on every day differently and spontaneously, and his passion for working with special education students is fruitful and rewarding.
"Impacting students [or] athletes day in and day out means the world to me," Joshi said. "Every day I know we're doing something for somebody, whether it's coaching football, or [teaching] night school or at Off-Campus, or [coaching] Special Olympics."
Joshi says the work is sometimes difficult, but that doesn't make the work any less rewarding.
"It's exciting but also sometimes challenging, but I love challenges," Joshi said. "I think the greatest reward is seeing the students [and] families that we're impacting."