District compensates for rising GBS population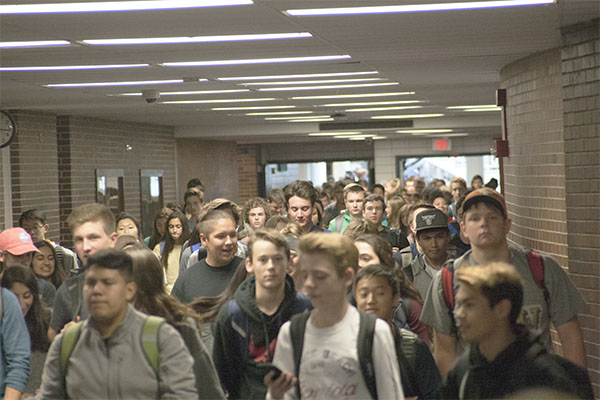 Since 2012, the student population at Glenbrook South has grown by over 300 students each year and is expected to increase by another 100 by 2021, according to District 225's tentative budget for the 2017-2018 school year. The growing enrollment has caused the district to make accommodations, according to Dr. Lauren Fagel.
The growing population is largely a result of new housing developments in Glenview, particularly in the Glen, and young families migrating in; this is an outcome from the new housing that the district had not expected, according to Fagel.
"Basically, when the Glen was built there was an assumption made that the families moving in there would be people who are far enough in their careers that they could afford a house in the Glen, and perhaps because they're far in their careers they also have older children," Fagel said.  "The thought was that the boom in the high school would be at that time, but it turned out to be the opposite: a lot of young families moved in. So now, all the children of the families that moved in when the Glen was built are just coming into high school."
According to Fagel, conversations on ways to accommodate the rising projections have been ongoing. At one point, these discussions involved the later-scrapped notion of adjusting the border between South and Glenbrook North.
"The growing population here has been a top priority of discussion and action," Fagel said. "Before I was here, they talked about moving boundaries and there was a decision made not to do that, but we're going to accommodate the growth by expanding facilities if we need to, and we've made changes to some spaces."
A few of the changes made to spaces at South include the expansion of Project Lead The Way classrooms and increased seating inside the library, according to Fagel. Fagel went on to suggest that much more will need to be done to accommodate a rising population in the future.
"We will need to hire more teachers because there will be more kids," Fagel said.  "So, there's a lot of things that we have do to accommodate the growing population."
Such accommodations have not prevented students from noticing the congestion of the school, however. In fact, slow-moving hordes and tight squeezes have been even more noticeable this year, according to senior Madelyn St Clair.
"For me, I didn't notice a change my sophomore or junior year but this year, [the school population is] just out of control," St Clair said. "School's already overwhelming, so when I'm walking down the halls and people are going two miles per hour and not walking on the right side and you can't breathe because it's so congested, it isn't pleasant."
St Clair is not the only one to take notice of the school's population growth. In an Oracle conducted survey of 294 students, 57% said they felt that South was too crowded. Although the population is only expected to continue to grow for the coming years, the facilities at South are capable of handling much more, according to Kim Ptak, director of operations for District 225.
"Last year's enrollment at GBS was 3,026 and is projected to grow over the next few years to 3,100," Ptak said. "A general classroom is considered a multi-use space because it can be used for multiple subjects. At South, we have enough multiple-use spaces to accommodate an enrollment of up to 3,300."
The enrollment figures are also expected to decrease following a peak in 2021, according to the same projections from the district's budget plan. Fagel says this too impacted discussions pertaining to accommodation for the growing classes.
"[South's population is] also predicted to come back down, and that's something that the Board of Education has to look at," Fagel explained. "If we decide to add another wing for the growing population, what happens seven years from now? We'll have empty classes."
Nevertheless, projections for the future haven't stopped students like St Clair from wanting change now.
"I think that what frustrates me the most is knowing that GBN has fewer students," St Clair said. "If we are so overpopulated and they are underpopulated, then—I know it's really hard—but something has to change."