Ap Government postpones full year course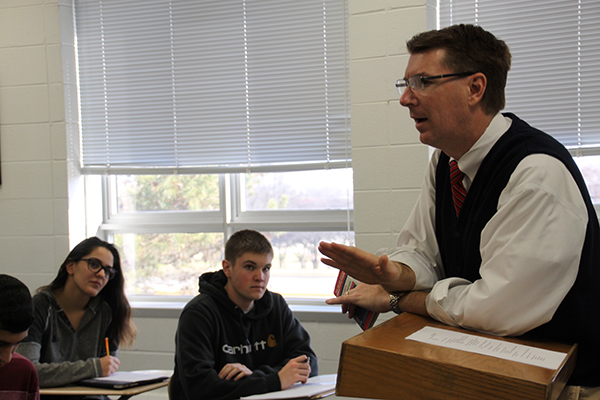 After much discussion, the Social Studies Department decided to table the decision to make Advanced Placement (AP) U.S. Government and Politics a full-year course.
According to Jeannie Logan, Social Studies Department instructional supervisor, the decision was nuanced and fluid, so consideration of the new Civics course graduation requirement and how course enrollment would turn out was necessary.
"We already have a new Civics course that we're designing that will be implemented next year and it will affect our department," Logan said. "So to have a number of changes at once, we are kind of reluctant to do that. […] It's obviously very similar, you would either take AP Government or Civics, so we kind of wanted to see what would happen with the Civics course."
Additional reasons included the examination of how enrollment in a full-year course could affect other social studies electives, according to Logan.
"It's hard to predict how students will make their choices," Logan said. "It could shrink the number of kids who take AP [Government] because [they can't] commit a whole year and then they might take some of our semester electives [instead but] it's hard to predict that. So certainly we would feel an impact and I think the leadership of the school is very wary to make curricular decisions [when there could] be consequences and a fallout that we then can't [recover] from."                              
Nonetheless, Matt Whipple, current AP Government teacher and former International Relations teacher, believes that the implementation of a full-year course is essential to maximize student learning.
"There are a lot of people, [myself] included, that believe that the AP [Government] class would be better served if it were a year long," Whipple said. "That position is based on how much material you have to cover, how much material you want to cover and how much time you have to delve into in. So the idea that it's a semester long, to me, it's too short, simply too short."
However, Logan encourages students to make their opinion regarding the topic heard, so it can be included in further discussion, which will take place next year.
"I think a lot of what may help inform our decision is feedback from students," Logan said. "Like how do they feel about having it be a semester or a year long and what do they have to say and what is their preference? We'd be very interested to see what students think about it."