Google 1:1 transforms Glenbrook education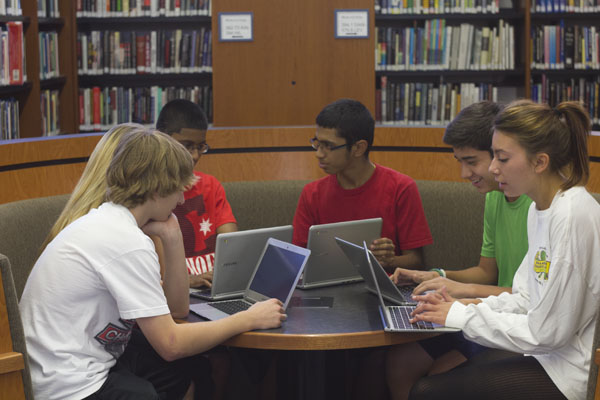 Hang on for a minute...we're trying to find some more stories you might like.
Google Chromebooks were distributed to all District 225 freshmen, sophomores and juniors as part of the district's first one-to-one (1:1) technology initiative at the beginning of the school year.
The Chromebooks were tested during a pilot program last spring and emerged as the best device for large-scale distribution, according to Ryan Bretag, director of instructional technology.
Kim Kiraly, family and consumer science teacher, took part in the pilot and said Chromebooks were a smart decision for the district.
"You can do a lot of rote learning on [a tablet] versus a laptop that would allow you to do more production," Kiraly said.
The District 225 Board of Education approved the device as part of a two-year lease, according to Principal Dr. Brian Wegley. At the end of the two years, students may be able to purchase the device for $1, pending Board approval, according to Dr. Michael Riggle, District 225 superintendent.
Riggle said the goal of the two-year lease was to ensure that South can stay on top of ever-changing technology. After two years, the district will re-evaluate how the Chromebooks worked, potentially look at other devices and make a decision as to how to progress, according to Bretag.
Devices are rented for $25 the first year and then for a maximum of $118 the second year. The low cost for the first year is due to a Board contribution to ensure that the initiative started effectively and teachers and students had time to figure out how to best use the device, according to Riggle.
"I felt the first year that we needed to build capital for these devices, because not all of our teachers would be ready right off the bat to use this device fully," Riggle said. "It gave us a more relaxed environment for [the beginning]."
Kiraly said that the administration has allowed teachers more independence with the implementation compared to the more controlled environment of the pilot last spring.
The Chromebooks were introduced to create a more collaborative and engaging classroom setting, especially through Google Apps like Google+ and Google Drive. These Apps allow students to connect with classmates and receive more efficient feedback from their teachers, Wegley said.
In an Oracle-conducted survey of 55 teachers, 84 percent said they used Google Drive for handouts, papers, and other uses. Matthew Bertke, world language teacher and department technology adviser, said that Google Apps enhance students' educational experience.
"There are a lot more resources and a lot more tools for the underclassmen," Bertke said.
Most teachers recognize the educational power Chromebooks provide, as 80 percent of teachers surveyed would choose to continue using Chromebooks; however, 67 percent also acknowledged the potential distractions that immediate access to technology poses for students.
"Most of the time it's not a distraction, it's actually much more beneficial, but there are rare instances," Bertke said. "It's no different than someone just staring off into space; you just have something to stare off into space with."
Most students surveyed feel the addition of Chromebooks has been useful to them.
"[A]s long as it is efficiently incorporated into class, I enjoy using it and I think it can be very effective," freshman Cindy Yang said.
Aside from the occasional freeze-up or abnormal glitch, the devices have proven to be reliable, according to Bretag. Only 30 percent of students surveyed reported having experienced problems with the device. The only repeated issue has been the failure of some devices to automatically connect to the new Wi-Fi hubs that were installed in each classroom over the summer.
Bretag said the issue is being addressed with random checks in classrooms. Bertke thinks similar issues are simple to solve.
"They're pretty easy to fix. You can just turn it [on and] off [and] within 30 seconds it turns back on," Bertke said.
More common problems are user-based, like forgetting to charge the device or forgetting to bring it, according to Bertke. Bretag believes that students have to become accustomed to the fact that Chromebooks aren't the most durable devices, and hardware malfunctions often come from wear-and-tear on the device.
The majority of staff surveyed feel that the benefits of incorporating Chromebooks into the curriculum outweigh the difficulties.
"I think that it's been really great this year, there haven't been a lot of bumps," Bertke said. "I think that it's going to be an important technology that once we all kind of get a feel for how it works, especially as we transition to the block, it's going to be really helpful to do more activities that–especially in language–enhance communication and get people talking in a bunch of different ways instead of just words out of the mouth."
Bretag believes that while the implementation of Chromebooks is an important step to create a more modern classroom, it is only an entry point into the 1:1 world.
"As the world evolves, devices are devices and will change,"Bretag said. "For us, who knows what the next device will be? But a lot of it is not directed [toward] the device…It's more about what the student experience is that we are all striving for. If students… have been creating and collaborating, they should come right in here and be looking to do the same thing, regardless of the device."