CTU organizes three-day march against school closings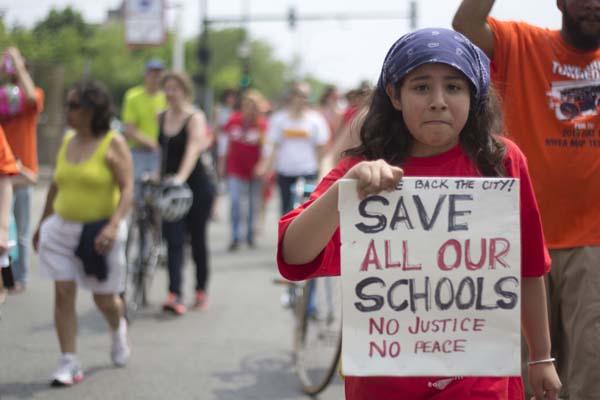 Hang on for a minute...we're trying to find some more stories you might like.
The Chicago Teachers Union (CTU) executed a three-day march in protest of the proposed closings of 54 Chicago Public Schools (CPS) May 18-20.
Teachers, parents, students and community members gathered to tour 29 of the elementary schools slated for closure in an attempt to affect the Board of Education's deciding vote May 22.
According to CPS, they are experiencing a $1 billion deficit fueled by an underutilization of schools; while they support facilities with a capacity for 511,000 students, there is a student population of 403,000, a CPS press release reported. According to CPS Space Utilization Standards, for a school to be at maximum capacity, there must be at least 30 students per classroom.
Jen Johnson, teacher at Lincoln Park High School and marcher, believes that the utilization system is flawed because it fails to take into account the situations at each school, targeting schools on the South and West Side that have already experienced massive school closings.
"They need to study the system and make up a master plan before they do major actions like this," Johnson said. "There are other things that could be done, other revenues that can be found."
A common example of situations this utilization formula does not take into account is special education, according to Maggie Servais, special education teacher at Bethune Elementary School. According to Servais, the legal limit for a special education room is 18 students with two paraprofessionals; however, special education rooms are still accountable for 30 students.
On May 15, CPS parents filed a class action lawsuit in federal court, challenging the school closures based on violations of the Americans with Disabilities Act and the Illinois Civil Rights Act, according to the CTU. The parents argue that the closings will discriminate against African-American students, disproportionately affecting 23 percent of the African-American student population.
Bethune Elementary, located on Chicago's West side, is 98.4 percent African-American and is on the school-closing list. According to CPS, the average increase in walking distance from their home to their school building will be less than two blocks. Post-closure, Bethune will be used as a bus stop for students to be shuttled 12 blocks to Gregory Elementary, according to Servais.
One of parents' biggest concerns is transporting their  children to new schools; students who cannot afford a bus will walk a route that is not through residential streets, but freeways, abandoned lots and gang territory. CPS responded to these concerns by stationing firefighters along the routes for the first three weeks of the closures in addition to funneling $8 million into Safe Passage, a program in which parent volunteers stand on street corners in the effort to protect child commuters.  For Charice Patterson, mother of a Bethune student, this promise of protection is not sufficient.
"My son, he's not going to go to Gregory because I don't like the area down there," Patterson said. "It's bad-–there's fighting and there are drugs all over the school. My boy's not going there anyway. That's not an option for him."
Dion and Dionta Grayson, Bethune eighth graders, recognize that Gregory is ranked higher as a "Level One" academic school, while Bethune is a "Level Three" school, yet still don't understand how the district can close their school after the turnaround in 2008. According to the twins, Chicago Mayor Rahm Emanuel visited their school back in 2008 and later sent them a letter promising that he wouldn't shut down Bethune.
"I just feel like, if you came to our school and met the kids to see how good we're progressing, […] why would you close down schools that you know [are] doing good?" Dion said. "You're just vandalizing everybody's education."
CPS CEO Barbara Byrd-Bennett reconciles the concerns about safe passage, discrimination and flawed determinations of underutilization with a guarantee of improved quality of education.
"By consolidating these schools, we can focus on successfully transitioning every child into a better performing school close to their current school," Byrd-Bennett said in a press release. "Each welcoming school will have the things that parents, teachers and CPS agree students need, such as a library with new books and digital materials, air conditioning, computer and science technology upgrades, counseling and social work support."
Crystal Ellis' biggest concern is uprooting her three daughters from Lief Ericson Academy, a magnet school in which she says her children are thriving academically and socially. Crystal's fourth grader Tamia fears a new cycle of bullying and a loss of friends at the receiving school Sumner Elementary.
Emanuel asserted that consolidating schools is the best option for students, and that schools will receive the resources they need in order to thrive and succeed.
"Make no mistake, we have a challenging road ahead, but we will not shy away from a challenge that will better our students' chances to reach their full potential," Emanuel said.
On May 20, marchers like the Ellises joined in a mass rally at Daley Plaza, just five floors below Emanuel's office, having earlier delivered petitions with over 10,000 signatures to City Hall. After speeches, chants and songs, the crowd streamed out of the plaza to encircle City Hall with enough demonstrators to link arms around the entire structure.
In her speech, CTU President Karen Lewis rallied for the formation of an elected Board of Education, voting Emanuel out of office and extending movement that would not end with the closure of the 54 schools, an issue that was voted on after The Oracle went to press.
"And no matter what happens on Wednesday, it is not over," Lewis said. "And I want to tell you one more thing: never, ever let somebody else define you by a number, by a name, by a color, by a sign, by a school closing. We define ourselves. We are a success."