STAND spreads same message through new Peace Advocacy week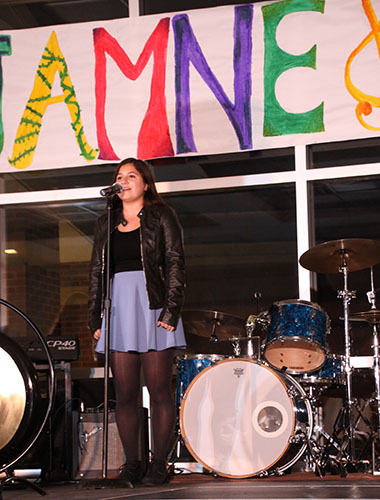 STAND for Peace is one of South's clubs centered on the issue of global human rights. Their passion is captured in one of their main events: Peace Advocacy Week. Students can see their efforts for peace come to fruition with their simulated refugee camp and supplemental teach-ins, but according to Jane Carpenter, STAND for Peace board member, this year has brought new changes to how the club observes the week.
Carpenter says because STAND will not be holding the construction of the refugee camp or presenting teach-ins, instead the club will be partnering with the Glenbrook Musical Fiddler on the Roof during its shows in late April. Club members want to bring awareness to similar topics they would have presented about during the official week by working alongside the musical to incorporate its themes into an intermission presentation that will reach much of the student body.
"Fiddler on the Roof is a story of persecution against the Jewish people in the shtetls of Russia and it's hard to talk about it without spoiling the musical, but at the end, they essentially become refugees and are forced to leave their home," Carpenter said. "In tandem with that, we're doing an interactive presentation about refugees in the modern world."
According to Matthew Whipple, sponsor of STAND for Peace, the club believes that the presentation co-existing with the musical will reach an audience bigger than just South's student body. He wants the traditional message from Peace Advocacy Week to carry over into this presentation and hopes the greater community will form a new understanding of the situation.   
"Our intent is to connect this musical that emerges on the basis of some powerful stories about these people living in these shtetls and saying the tragedy of what happens to the people […] continues to play in the modern world," Whipple said. "That is to a certain extent what we would have done during Peace Advocacy Week but in a slightly different way and for a slightly different audience."
Whipple explained that the school schedule that presented itself put STAND members at a disadvantage.  He explained that time constraints would not allow the club to curate the Peace Advocacy presentation or the refugee camp simulation they had hoped to.
"It just was the function of the perfect storm of a week that came too soon and didn't fit our traditional schedule," Whipple said. "We could've just repeated what we did last year, but then you have students saying I saw that last year so what's different, what's unique? […] So we're going to come back strong next year with a slightly different plan and more time to execute it successfully."