Up-and-coming club aids community through cooking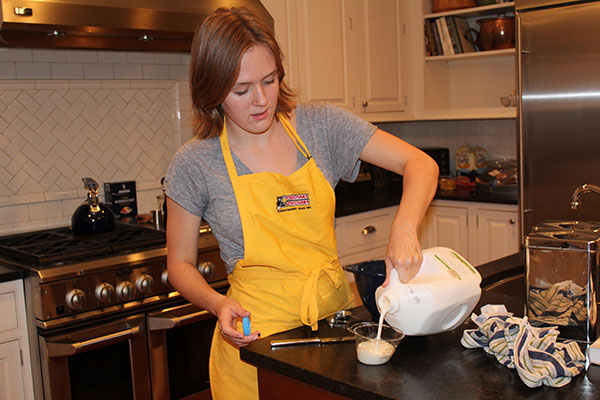 Between the rich aromas of comfort food and the sizzling of frying pans comes a new meaning to the term "cooking". With the desire to help others, South's new club, Cooking for a Cause, aims to use food as a way of giving back to the community.
According to junior Kate Voss, she was inspired to start the club by a friend in Texas who had a similar club at her school. Voss said she had always been passionate about cooking, and she wanted to introduce something similar to it at South.
"[Cooking has] always been something I've been interested in," Voss said. "I loved to bake with my mom when I was little, and when I was around 10, I started making my own things. I then graduated to some bigger things. It's something I always find intriguing, and it's never the same. It's always something to look forward too."
The objective of Cooking for a Cause is to cook meals for people in homeless shelters or women's shelters, according to Voss. Voss believes that the home-cooked meals the club makes provide the best support to people who are struggling with these basic needs.
"Our main goal [is] to provide comfort through home-cooked meals to people who don't get them on a regular basis," Voss said. "Usually, we would [cook] something that is comfort food, meals that you have at home that you might not get from a homeless shelter. Maybe something with chicken or pasta and a nice bread. Sometimes cookies and cupcakes, things like that."
When Voss first came to junior Emma Wills with the idea for the club, she was very supportive. According to Wills, although only a small number of people showed up for the first meeting, everyone was still excited. Wills said that the club has steadily started to grow since the first meeting.
"The first meeting I attended was in the Child Development room," Wills said. "There was only a couple of us, and it was kind of weird because it was only our friend group. [Voss] was super enthusiastic about it; she was so excited we were there, whether there were four of us or 10 of us. She was so excited that everyone wanted to get going with [the club's] projects."
The club's first target was to hold a bake sale to fundraise, according to Wills. Now that the fundraising is done, the club plans to start their first project for a women's shelter and get on a regular schedule for semester two.
"Buying a lot of food to bake for people is expensive," Wills said. "We set up a bake sale for one or two weeks before school and after school and made all [the baked goods] ourselves. It was kind of interesting because teachers would come up to us and say, 'Oh my gosh, this is an actual bake sale!' Usually, when people hold bake sales, people just buy stuff, but we made it all ourselves and ended up raising a lot of money."
According to Marie Baker, sponsor of Cooking for a Cause, she had done a similar program when she worked at Lake Zurich High School as a part of the curriculum there. Baker believes that the club is a great way for students to help the community and become aware of their surroundings.
"[My] favorite moment has been just watching [the club] grow and seeing the kids take action," Baker said. "[This] is a great way of paying [service] forward and sharing the whole experience with the students. I think that [students] get a really priceless feeling that you can't put a label on. […] Just knowing that you're helping somebody with a basic need that sometimes you take for granted can be pretty powerful."
For the future, Voss hopes to find someone who is as passionate about the club as she is so they can take over when she graduates. In the meantime, according to Voss, the club is always open to new members.
"I really want [the club] to expand," Voss said.  "I want to get the word out because I really think it could be something that people are really interested in. I know it's going to be so much fun; it's like the best of Key Club and Cooking Club. You get to do service and have fun with your friends while cooking and baking. It's going to be really great."