South commemorates retiring teachers, faculty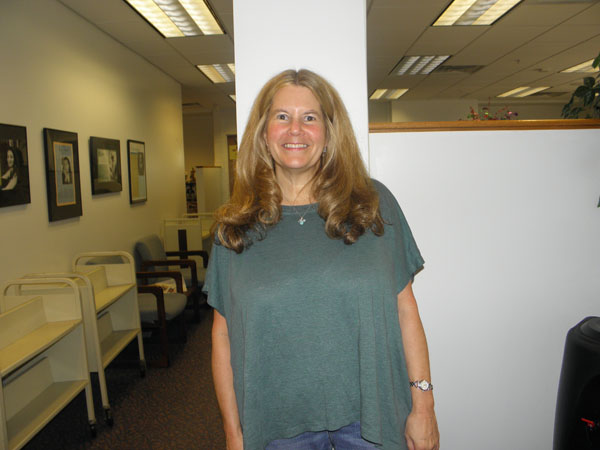 Julianne Arnold, Sally You, Grace Brunzell, Ariana Nufio, Madison O'Brien, Elisa Kim, Camille (CJ) Park, staff writer, co-features editor
May 24, 2013
The Oracle would like to honor South teachers and faculty members who are retiring at the end of this year after long years of service for South and the community.
The Oracle highlights nine staff members for their dedication and work.
Sally You
co-opinions editor
Cynthia Franz, secretary of the Music Department, will be retiring at the end of the 2012-2013 school year after 19 years of dedicated work at South.
Though her position has no direct connection to students, Franz's involvement in the Variety Show, choir concerts, and field trips made by the Music Department helped her connect with students.
"I discovered that I really like working with teenagers," Franz said. "Teenagers are the best age ever because they're grown up on the outside, but still children on the inside. They will tell you for the most part exactly what they think and how they feel, and I love that."
According to Franz, she will not only miss the opportunity to work with talented students, but also the faculty members at South.
"The people in this school are so fortunate right now to have Marty Sirvatka, Stevi Marks, the orchestra and band directors, Rich Winship and Jim Shellard," Franz said. "We have the most amazing people who are all in one place at one time, and the school is, for the most part, really [supportive of] what [the Music Department does]."
With retirement approaching right around the corner, Franz plans on picking up her life from where she left off prior to her career at South by catching up with her friends and family. She will actively participate in the Northbrook Community Choir, spend time playing the flute and take painting classes at the Botanic Garden.
Grace Brunzell
staff reporter
After 14 years of teaching English at South, and 13 years teaching at North prior to that, Deborah Middleton has decided to retire. Middleton said teaching has been a very important part of her life, and it has shaped her identity.
"I don't think that I would be able to talk to someone very long and not have it come up [quickly] that I'm a teacher here," Middleton said. "I've been here so long that it's part of my life."
Middleton said the students are her favorite part among the many aspects she enjoyed at South.
"There are always those students who make an impact on you, and not just kids that are exceptionally smart, just kids in some different ways touch you, and kids will always stand out to me," Middleton said.
Besides the students, Middleton enjoyed the atmosphere of being a teacher at South.
"I will miss being in an environment where everything is very active and changing all the time," Middleton said.
According to Middleton, her life after retirement will be more slow-paced, but not for long.
"For a while, I'm not going to do anything," Middleton said. "I'm really going to enjoy sleeping in. I'm going to travel a little bit. I'm not good at sitting still. It's time to do something different."
Ariana Nufio
staff reporter
After 33 years of teaching, David Hill from the Applied Technology Department is ready for a change from his role in South.
Hill has been involved in a variety of activities at South. He taught 11 different classes, and has done committee work, Peer Group, and a lot of work with club and activity sponsors.
One project accomplished in his woodworking class was South's very own gazebo, located in the courtyard.
"The students were working on it, competing to see how fast they could do the work or the quality of the work," Hill said.  "I always liked that, where kids would challenge themselves to do the best that they could."
According to Hill, the people he met, especially through extracurricular activities, have made his career a happy one.
"I think I've established my relationships and a fair number of friends and colleagues around the building through activities that were not directly related to my job," Hill said.
According to Hill, South is an outstanding school for various reasons.
"The thing that I think is most valuable in the school is the staff, the students, and the relationships that we create with each other," Hill said.
Despite the fact that Hill is retiring from his job as a teacher, he is still going to be doing plenty of service work. He will also be involved in many activities such as photography, traveling, and improving his guitar and piano playing.
"[My wife and I are] not really going to so much retire; we're just going to change our focus," Hill said.
Madison O'Brien
co-features editor
Lorraine Kroll, Executive Secretary in the Student Activities Office, has worked for District 225 for 32 years. Kroll will be retiring at the end of the school year and has mixed feelings about it.
"I just love being here," Kroll said. "It [has been] a really long time [that I've been at South] though, so when I don't have to get up at 5:30 in the morning on Mondays, it's going to be really strange."
According to Kroll, many things have changed since she first began at South in 1981.
"When I first started, everything was a lot different," Kroll said. "We didn't have computers, we had typewriters."
From paper and pencil to Mac computers, Kroll explained how she has lived through many changes throughout her experience at South. One of her favorite memories from her past 32 years was participating in the teachers' act in South's Variety Show multiple times.
According to Kroll, she has few plans for the time after her retirement.
"I just want to take it easy for a little while," Kroll said. "One of my friends and I, we want to go to Europe […] because this is probably the last chance I am going to get. I belong to American Coaster Enthusiasts, […] and every once in a while the Coaster Enthusiasts will go to Europe and I'd love to do that also."
Besides traveling and taking it easy, Kroll is looking forward to spending more time with her family.
"I have nine grandchildren and I am going to be a great grandmother in August," Kroll said.
Looking back on her time spent at South, Kroll has many positive things to say.
"Just being here at the school and being here with the students has been awesome," Kroll said. "Everybody is nice. [Also,] I have thoroughly enjoyed working for [Jim Shellard]. He has been an awesome boss and I'll miss everybody when I am gone."
Elisa Kim
co-features editor
After working as Executive Assistant to the Associate Principal of Student Services and Guidance for 18 years and working in Student Activities for seven years before that, Lorna Johnson is retiring at the end of this year.
According to Johnson, her main job at the Guidance Department was to manage the office work and to help students and counselors. She claims that her experiences in student activities and in guidance differed.
"In student activities, it was a happy place," Johnson said. "There was prom. There was homecoming. There was student council. […] In guidance, [I] saw the other side [like] the hardship of not getting into the college, […] the grade that you didn't get. You see the other side of the student body. I just love being with the kids. It's going to be missed."
With all the different interactions she got to experience with different students and people in the building, she said her experience at South has been a rewarding one.
"There's just so many things that I do on a daily basis that everyday is different," Johnson said. "I loved coming here for the last 25 years. I've [also] loved the students."
After her retirement, Johnson is planning on taking the summer off. Once her husband retires, she said she wants to do some traveling with him as well, but before she does that, she has a special plan for this fall.
"My oldest granddaughter is a special needs person," Johnson said. "I'm going to work at her school, in the CPS district, and work in the Special Education Department and help out there. That's one of the things I want to do."
Camille (CJ) Park
co-editor in chief
Lois Wolfson, administrative assistant of the Science Department, is retiring after 10 years at South. Wolfson began her journey at South as a parent volunteer for the Guidance Department, then applied to be a receptionist there.
"I was on the Parent's Association […] and then I was lucky enough that when I learned of an opening in the Guidance Department, I applied and I started in the Guidance Department as a receptionist there," Wolfson said.
After four years as a receptionist, Wolfson switched to an assistant scheduler for the Guidance Department, then to an administrative assistant for the Science Department.
"[When] I was an assistant scheduler […] I didn't have as much contact with the students as I did when I was a receptionist, so I really was not so happy doing that because I really just love to be with the kids," Wolfson said. "[The Science Department] needed a new administrative assistant so I applied for that."
Wolfson plans to volunteer at Oakton Community College, teaching English and literacy, and she is also interested in volunteering at the Northfield Food Pantry.
"[Oakton and Northfield] are places that have become dear to me through working at  [South]," Wolfson said.
Wolfson described her relationship with South as very personal, especially because she is a resident of Glenview.
"I take everything that happens here very personally and I just want the best for [South]," Wolfson said. "It's a really special place."
Furthermore, Wolfson plans to travel and spend time with family and friends.
Grace Brunzell
staff reporter
ESL Coordinator Karen LeBlanc decided to retire after 21 years of working at South. According to LeBlanc, she enjoys her current teaching spot and values the time with her students.
"Students have shared their experiences with me," LeBlanc explained. "I feel like I have grown not only as a teacher, but as a person because I've been so enriched by the opportunity to work with wonderful colleagues and our team, and amazing students who inspire me everyday."
As the ESL Coordinator LeBlanc has the opportunity to work and interact with foreign students who come to South. According to LeBlanc, this experience is something she greatly treasures.
"I love greeting and helping the new kids," LeBlanc said. "[I also love] the opportunity to get to know students who have very different experiences. I have thoroughly enjoyed learning from them and I hope they have enjoyed learning from me."
Not only have LeBlanc and her students learned from each other, but she has learned more about herself throughout her many years of teaching.
"I can challenge myself to move out of my comfort zone," LeBlanc said. "I had worked with my department and I was able to branch out and work with so many other departments. […] I feel like I have just grown in the professional opportunities that I have had and I've loved."
As for retirement, LeBlanc is looking forward to it, but she will miss coming to school every day.
"I'm very excited that I can wake up without a to-do list," LeBlanc said. "There is so much that is exciting and meaningful here to me that I will miss tremendously."
Julianne Arnold
staff reporter
Deborah Robinett, Physical Education teacher, is retiring at the end of this school year after 32 years at South.
"[Working at South] has been a constant as far as offering me the opportunity to grow as a teacher and teach new things," Robinett said. "Every few years we have been able to do something new, even in P.E., which has allowed me to grow and learn as both a teacher and a person; plus, the students have always been enthusiastic and respectful about the things that we do, so it has been an exciting place to work."
According to Robinett, there are certain things she will sincerely miss and never forget about working at South, such as establishing friendships with her colleagues.
"I will miss my colleagues, my students, [and] the routine," Robinett said.  "[South] is a very warm place to teach in. I will miss the whole routine of it because I have come to love working in this warm environment."
As much as she learned from teaching at South, she hopes students have learned from her.
"My goal with my classes has always been to get my students to be active, to learn to like the activities that we do, or to get more fit by doing the activities," Robinett said.  "So I hope that all the students I have had have better appreciation for physical activity if they didn't have it [prior to being in a gym class], and have enjoyed being in my class; that they felt I was fair, being glad that I pushed them […] and, from a fitness standpoint, encouraged them to do more."
After retirement, Robinett intends to spend more time with her friends and family and doing the things she loves to do such as traveling, kayaking, and biking.
Elisa Kim
co-features editor
Plant operator Michael Calucci is retiring at the end of the school year after 31 years at South.
According to Calucci, his main job includes supervising the two assistant plant operators and the 40 people in his department. He also conducts the construction projects, oversees the building's daily operations, and takes care of the maintenance and custodians.
"It's been a really fun 31 years," Calucci said. "We've done three or four major additions since I've been here [including] the field house, lyceum, and the swimming pool. It's been a fun 31 years. It's going by fast."
Calucci said he would miss the staff members that he worked with over the years. He especially showed respect and gratitude for the people in his department.
"I've been lucky to have some wonderful people work for me," Calucci said. "I'll miss the people."
Calucci also spoke of the relationships that he built with faculty members.
"There's a lot of communication to the building that people don't realize really happens," Calucci said. "[South faculty members] have also been overall just wonderful. It's a great place."
As he reflected on his experience with the students at South, Calucci emphasized for students the importance of enjoying their years at South.
"The most important thing is for the students to realize what they have here and to have fun while they're here," Calucci said. "As a matter of fact, most of my decisions are always based on what's best for the students and the students have never let me down."
After retirement, Calucci plans on taking the whole summer off, then deciding whether to stay in retirement or to find another occupation.
"[My wife and I] do a lot of motorcycling, so we'll continue to do motorcycling," Calucci said. "For a while, we'll go wherever we feel like we're going."