Teens with divorced parents work to balance life and school
Balancing homework and activities is a struggle for many. What complicates matters more for some South students, however, is having to switch between houses throughout the week and being distracted in class due to their parents' divorces.
According to freshman Chris Brandon*, his parents divorced in 2010 when he was in seventh grade, leaving him unfocused during school.
"I was constantly thinking about how much my life was going to change," Chris said. "I was scared that my life was going to be so much more different."
For sophomore Melissa Garrison*, her dad moved out of the house before the divorce was made legal in December 2011. Garrison saw how her parents fighting negatively impacted her grades even before the divorce.
"When my parents were fighting really badly before the divorce I was doing absolutely terrible in school because I just didn't care anymore," Garrison said. "I was like, 'What is the point to try?'"
Sophomore Sandra Gartner's* parents' divorce process lasted nine months until it became final in October 2011.  She now has the stressful task of  switching between houses every three days and basically lives out of a suitcase, according to Gartner.
Senior Laura Brandon* also feels the divorce put a lot of stress on her, especially during her junior year.
"During my junior year, my parents were fighting a lot, and even though they had been divorced for a year or two, my grades dropped very severely because there were so many issues with them fighting," Laura said.
In contrast, junior Daniel Perry*, whose parents got divorced in 2001 when he was five years old, does not believe having divorced parents has affected his education or any other aspect of his life. According to Perry, his parents have both always been available to help him whenever he needs it.
"[Having divorced parents] is all I know," Perry said. "My parents work really hard to co-parent, and they do it well because I never feel like we aren't really a family."
According to sophomore Tina Roland*, whose parents got divorced in 2004 when she was six years old, therapy has been able to help her cope with the stress of having divorced parents. When it comes to school, however, Roland does not feel teachers understand the stress.
"I don't think [teachers] really understand because they don't really think divorces are a big deal," Roland said. "I think this is because when they were growing up it wasn't as common, but now more than half the people who get married usually end up in a divorce."
Garrison feels that despite the difficulties, she shouldn't receive any special treatment because of her parents' situation.
"I think if I went up to a teacher they wouldn't give me any sympathy because I'm 15 years old and should be able to handle myself," Garrison said.
In addition to the educational affects of divorce, Laura has been impacted mentally because her parents' divorce occurred when she was beginning to become a teenager.
"I matured way faster because I really had no choice," Laura said. "Just having to look after my brother and myself a lot more, it definitely forced me to grow up and be a lot more independent."
For Roland, the divorce took a toll on her socially when she was young.
"When I was little, it really impacted me," Roland said. "I didn't have many friends after moving to a new school so I was kind of a loner, and I didn't have any siblings to talk about it with because I was an only child. So, it was very hard to work through it all by myself."
Gartner noticed a big change during family holidays as a result of her parents' divorce.
"At holidays when we're not all together as a family, it's just different and I'm not used to it, especially since this last week of October, it'll be one year since the divorce was final," Gartner said.
According to Laura, despite the negative aspects of her parents' divorce, she is trying to look past it and remain optimistic.
"The way that I see it is that it could be way worse, my situation could be horrible," Laura said. "I still have both parents in my life, which is a good thing […] I just have to learn from all the mistakes both of my parents have made and learn from all the hardships I had [to endure] just to make myself a better person and to have a better future."
*Names have been changed.
About the Contributor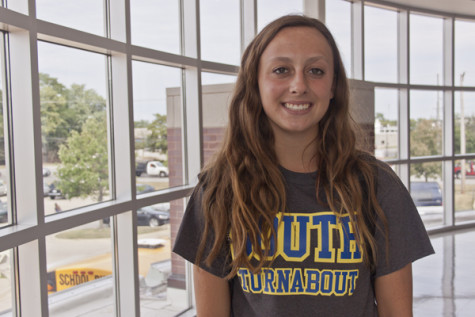 Caroline Berg, Staff Writer
Caroline Berg has been on The Oracle since her Sophomore year. Last year, Caroline wrote for Features, but she really looks forward to trying something...