Chambers provides additional opportunity for singers, emphasizes community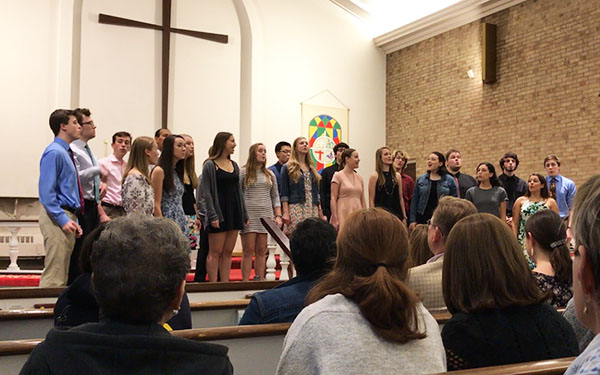 staff reporter, Aidan Celner
May 31, 2017
While one may be confused about the bonnets, top hats, big dresses and other Old English attire, there's more to the Chamber singers program than just costuming. They're a select group of talented upperclassmen, with the addition of a few sophomores, dedicated to bringing the joy of music to students and the community in the form of classic choral pieces, according to Daniel Ermel, former director of the Chamber Singers program. Ermel speaks very highly of the students that are a part of this group.
"Chambers is really one of the ultimate representations of the choral department," Ermel said. "We take some of the highest caliber singers and put them in this group."
Chambers is based around the learning and performance of some of the most well known English classic choral pieces, especially Christmas songs, according to graduate Katie Frankiewicz. Not only does this group sing in South's winter music assembly and have concerts throughout the year, they also differentiate themselves by their involvement in the community, according to Frankiewicz.
"We have the extra responsibility of representing our whole choir and school because we're out in the community doing so many different gigs that the other choirs don't do as much," said Frankiewicz.
The group performs all throughout the community during the holiday season, according to Ermel. Ermel explains that these performances include a residency of sorts at the Hackney's restaurant on Lake Street where they perform every night for four to five weeks over the holiday season. They also perform at retirement homes like the Vi and The Abington which, according to Frankiewicz, elicits tears from many senior citizens who dress in their Sunday bests' to see them.
While Ermel is the director of the group, he noted that the group has built incredibly strong relationships amongst the members.
"Sometimes they'll meet during lunches and [practice]," said Ermel. "They'll teach [the music] to each other. It's really a student lead group."
According to graduate Ethan Reiss, one day in September, referred to as, "the Marathon" challenges members to learn anywhere from 20 to 30 songs in the 14 hour time period they are encouraged to stay.
"The day is filled with lots of snack, group meals, activities and ends with bowling," said Reiss. "It's when the group truly starts to come together. Though our voices may hurt by the end, learning all of the music is a blast."