DAMN. reveals new side to Lamar's music, brings relevant social commentary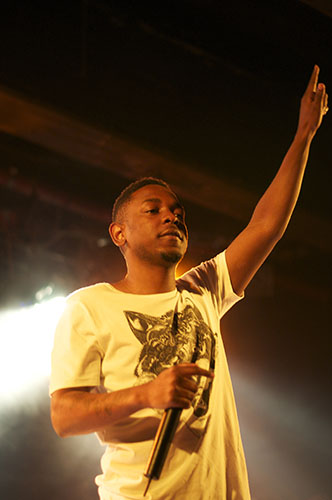 Hang on for a minute...we're trying to find some more stories you might like.
On April 14, Kendrick Lamar released his fourth album titled DAMN., the exact word that I had in mind after listening to it. DAMN. and all its songs are written in capital letters, giving more volume to already loaded words: "LOVE", "PRIDE", "FEAR" etc. The power of the words are, fortunately, replicated in their tracks.
But before diving into clean cut beats echoing each title's meaning, Lamar gives us "BLOOD"; a perfect first impression spoken through sweet vocals that introduce the story of a boy walking down a street.
Fox News commentary is laced in the intro as they misquote lyrics to Lamar's "Alright" from To Pimp a Butterfly, "And we hate the popo, wanna kill us in the street fo' sho'…" The commentators' disillusions act as almost a punchline for several tracks on the album, and because these commentators voices are often bellowing through my own house, I definitely feel for his frustration.
After concluding their thoughts, with "Oh please, ugh. I don't like it," the album transitions right into "DNA": a true banger that begins the rollercoaster of Lamar's depiction of his race. In this song, his African roots are royalty but are also composed of sex, money and murder. This is one of Lamar's recurring judgements on gang culture.
While this album is probably one of my favorite releases this year so far, it does have its pitfalls. "ELEMENT"'s chorus is too reminiscent of Drake's vocals for me. I love Drake, but when I listen to Kendrick, I don't really want to hear Drake's style. Same goes for "GOD", which is definitely my least favorite track. The chorus is too cartoonish (bad memories from Fetty Wap) and the lyrics are just impersonal.
Lamar's features are not as exciting as they could've been, but the quality of the songs definitely make up for it. "LOYALTY", featuring Rihanna, stood out to me. Rihanna is not really known for making highly respectable music— enjoyable yes—but when it comes to longevity and influence she's probably not going to be on that list. Still, their harmonization during the track's hook is one of my favorite parts of the album. It's so sleek.
U2's Bono also shares his vocals in contrast to some of Lamar's heaviest lyrics on "XXX". The lyrics on this whole album can be analyzed and reanalyzed to discover truths and more truths, but here Lamar analogizes his mentality as a young black man, "Throw a steak off the ark/ To a pool full of sharks, he'll take it/Leave him in the wilderness/With a sworn nemesis, he'll make it." Even the track's switches between a melodic bubble to a hard beat topped with sirens reveal the layers to his album and its production.
Differing from his other albums, Lamar has always, at least in my opinion, been a very level-headed and preachy rapper. However, it appears as though DAMN.'s Kendrick has taken on a persona that's given into his whims and strayed away from a lot of his previous philosophies (hate, violence, love, God, etc.). I guess it's a warranted response when you think the government and even God actually hate you, "Why, God, why, God do I gotta suffer?"
My favorites songs on the album have to be "YAH" and "PRIDE". Frank Ocean's Blond is another one of my favorite albums recently, and one of Lamar's collaborators said that before making "YAH" they listened to the album all day long and you can hear it come through on the beat. It is crisp, sweet, and a bit gloomy, like its lyrics "don't call me black no more/that word is only a color it ain't facts no more."
As for "PRIDE", Anna Wise, having worked with Lamar on a lot of his previous albums, makes a reappearance, and when they sing "maybe I wasn't there," I know I'm listening to an album with a soul. You can hear it in their voices and in the emotional tang of a Mac Demarco-esque guitar riff.
If you aren't sold yet, "DUCKWORTH" concludes the album, but its circular lyrics hint that the story of the boy walking down a street isn't really over. I've read that you can listen to the tracks from finish to start to hear a completely different narrative. This will give you a lot to listen to and a lot to think about this summer. Enjoy.