Wojcik follows in father's footsteps, assists in directing GBS Band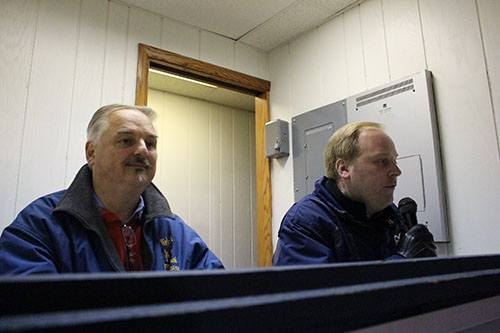 Molly Stryker & Eleanor Walsh, staff reporters
November 22, 2016
Imagine walking into Glenbrook South everyday knowing you've been walking these halls for years. Remembering the time you tripped and hit your head on a chair, and spent three hours at the Glenbrook Hospital right next door, or the V-Show when they had a rocket on stage. Even envisioning the Student Activity Center as the faculty lounge like it used to be. For Aaron Wojcik, Assistant Director of Bands at Glenbrook South, this is a reality.
"I can't explain it any better than I just grew up around here," Wojcik said.
Wojcik has spent his whole life at South because his father, Greg Wojcik, has been the director of bands for the past 38 years. According to Aaron, he came along to all the concerts, V-Shows and rehearsals since he was a kid. Therefore, Aaron explained, spending a lot of his time at GBS made him realize band directing was the career he wanted to pursue, and GBS was the school he wanted to pursue it at.
"[During] my freshman year [at Schaumburg High School], I really started to spend a lot more time around [GBS]," Aaron said. "In doing that, I got to see how [my dad] interacted with the kids. From there, I think my freshman year and my sophomore year I really started to see how great this job is."    
It wasn't South alone that persuaded Aaron that this was the career for him. Aaron explained that when he was a kid, he saw his father getting up at 5 a.m.to work as the assistant director of bands at South, and as a band director at Sunset Ridge Middle School. He added that his father played a variety of music gigs in Indiana until three am every day. Aaron says that this work ethic influenced him, and it still continues to.
"Most people are trying to get home from the job, but [my dad] was always going back out to the job," Aaron said.
Additionally, Aaron considers his father to be a great mentor. In fact, according to Aaron, he followed in his father's footsteps in every way. They both attended Northeastern Illinois University, have very similar positions at GBS, and even had the same instrumental lesson teacher in high school. In this way, Aaron explained that he is grateful to have had the opportunity to work with his father.
"I've seen all the upsides and downsides of this job," Aaron said. "By watching what my dad has done, I knew this was the place and the thing for me. For me, it's a sheer privilege to be able to get to work with him because that was just a dream."
According to Aaron, the GBS band just finished marching band season and are preparing for their winter concert in December as well as Jazz Fest in January. According to Greg and Aaron, they are both putting in the work to make sure they end their last year working together on a high note.
According to Greg, working at GBS for so long has definitely become part of who he is. Therefore, Aaron said it is important that in years to come, traditions of GBS music don't fade away.
"I already know what's important around here and it will help me in the future," Aaron said.
However, Aaron added that it's not to say that things will not change. He explained that the future of GBS music will bring a new direction that incorporates traditions, and what's good for the students. Even Greg said that things will improve, and South music will not be exactly the same as it was in the past.  
"It's not going to be a reincarnation of me," Greg said.