Jake Biales reflects on theater involvement at South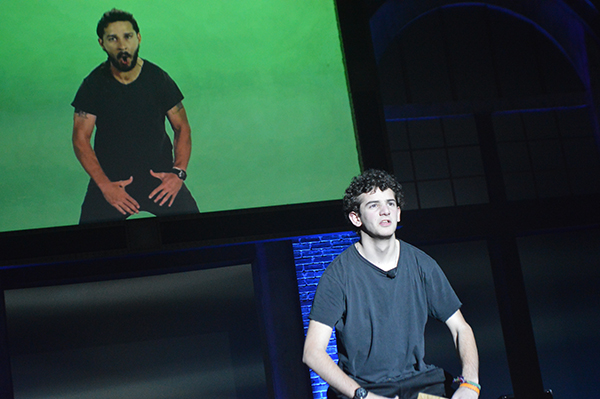 Every student at South has some sort of talent that makes them stand out, according to senior Jake Biales. He realizes these unique attributes in his peers while having some of his own. Biales has found his niche in theater, one of the many programs offered at South.
"Almost everybody [at GBS inspires me]," Biales said. "If you talk to anybody here, they can do something cool, whether it be sports, singing, dancing [or] anything."
At South, Biales is a part of the core group in Comedy Troupe according to Beth Barber, Comedy Troupe sponsor. Barber says that a main component of Comedy Troupe is the costuming of the members.
"[When] Jake picked this little kid outfit, I laughed so hard I almost cried because he [has] these long hairy legs like any teenage boy should," Barber said. "At first, [he wore] these really short dorky shorts, and I just went, 'Oh my god, you can't wear that,' because it just looked so absurd, but he ended up wearing [the] shorts."
Barber also says that Biales has many of the qualities needed to be successful in the many roles that he is portraying while on stage.
"To be in Comedy Troupe, you have to show that you can play multiple characters," Barber said. "You have to have a good sense of timing. Jake possesses all of that."
According to Biales, he is also taking his love for comedy and theater in a new direction through his YouTube channel.
"[My YouTube channel] is a mix of comedy and ideas that [viewers] should think about," Biales said. "My goal is to create a community where we can share ideas. I have a lot of thoughts and opinions on things. I created [my YouTube channel] to share those thoughts and opinions with people."
According to Biales, he knew that he  initially wanted to take part in the theater program  during his freshman year.
"I came into high school knowing that I wanted to be part of the theater program," Biales said. " I had been doing [theater] for a couple of years in middle school."
Since joining Comedy Troupe, Barber says that Biales has grown as an individual through both his acting and personality.
"In the beginning, he was always there but kind of quiet and shy," Barber said. "Jake has really come into his own and he's doing great things. He has really grown a lot. As a teacher, you really want to see [that] your students [have] grown a lot, and he really has."
Barber also says Biales is particularly good at making new people feel included in the group. According to freshman Claudia Tarif, it is nice to know Biales, especially since this is her first year at South.
"When you see Jake, he's kind of  just a welcoming face and a familiar face in the crowd," Tarif said.
According to Barber, Biales is currently starting the directing process and wants to continue in the future.
Biales said, "I want to direct movies, star in movies, do TV shows and keep going on YouTube. I just love the idea of telling stories."
According to Biales, he wants to be a part of producing more than just a show for the audience, but instead, create an experience.
"You know the feeling that you get when you walk out of a really great movie and you have all these thoughts buzzing in your head [inspiring you] to go do something?" Biales said. "I want to create that [feeling] for people. I really have no idea what is going to happen in my future, but [theater] is definitely something that I'm going to keep up with. [Theater] is something that I love to do."