Sholty serenades from drumstick to paintbrush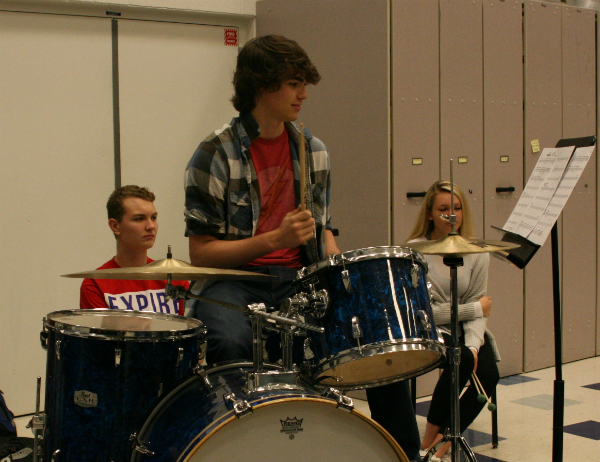 Frantic. That's the best word to describe senior Stephen Sholty, according Greg Wojcik, head band director. Whether it be detailing cartoons for his art profile or whaling on the drums, Sholty always has his hands busy.    
Participating in Variety Show, Jazz band, Marching band, and even a band of his own, Sholty is constantly playing music, according to friend senior Alex Sirakides. Originally a violinist of five years, Sholty discovered the drums towards the end of 8th grade. Sirakides said it only took one encounter with them to completely draw him into the band program.
"I was really just getting to know the guy [then]," Sirakides said. "He was an orchestra player then; he didn't really do anything with the band. He came over to my place and saw my electronic drum set, and he was there for the entire hour and half.  I couldn't even hang out with him cause he was just playing it. He really didn't know much, so I just taught him the basics, and that was the start of it."
Sholty, finding out his passion for drums, has continued the instrument for four years.
"The summer before freshman year I went over to my buddy Alex Sirakides' house, who's on the drumline now with me, he's the drum captain actually," Sholty said. "I went over to his house and he showed me his drum set and I thought that it was the coolest thing. And that's kind of how the whole thing start, getting into the band program."
Now completely immersed into the band program, Sholty has quickly developed into a talented drummer, often surpassing those more experienced than him, said Sirakides. He believes his rapid increase in skill is due to his devotion to practicing and his involvement in the various musical programs at South.
"[Stephen] puts in the same hours as everyone else, but he was able to [pick it up] in a much shorter time," Sirakides said. "When he decided he liked [the instrument], he went ahead and got involved in a whole bunch of things. He does stuff for the V-Show, a bunch of acts there, he's got another band outside of school. He's just always playing music."
Alongside music, Sholty also is involved with physical art. He enjoys sketching and doing a cartoon style of art. Sholty is looking into many art colleges and has recently visited the Art Institute of Chicago to learn about art and show his work to advisers.
"As far as art goes [recently] I was thinking of national portfolio day which is something that the AP art students went out to the city," Sholty said. "Me and a couple other students went to have some work checked out, it was a good time."
According to Wojcik, Sholty constantly contributes to the band through his personality. Sholty's leadership applies everywhere, from his Variety Show performances to the drum line.
"Stephen [is] one of those quiet guys, but he does his job [and] leads by example," Wojcik said. "He's a leader. He's not one of those guys saying, 'Let's go charge the hill.' He's one of those guys that leads by example."
According to Sholty, his pressing V-Show schedule last year forced him to quit gymnastics after two years of competing. He says, at times, school can all get a little overwhelming with all the activities, but in the end, it is worth it.
"My sleeping schedule has shifted a lot in the past couple years by trying to fit everything in," Sholty said. "I love it all, practicing and doing everything–not homework though–obviously. There can be some pressure sometimes, but if it's what you love, you keep doing it."