Levi expresses individualism through nail art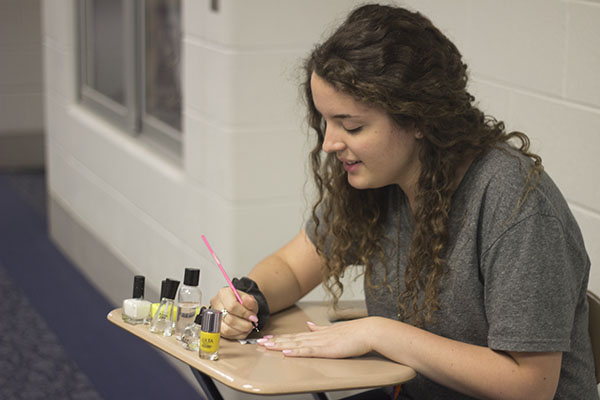 On Instagram, famous singers, actors and athletes keep their fans updated on their daily lives through pictures. But beyond the celebrity section of Instagram, many artists utilize this outlet for means of self-expression and displaying their passions through pocket-sized photographs. Junior Sam Levi is doing exactly this on her account entitled, "CurlyGirlNails" and continues to showcase her zeal for nail art.
Starting just over a year ago, according to Levi, she kickstarted her nail account upon realizing her desire to share her long-time hobby with the interested online audiences.
"I looked on Instagram one day and sure enough there were thousands of accounts devoted to amateurs and professionals sharing their nail art," Levi recalled. "I thought that this would be perfect for me, because I've always liked doing [nails], but I've always just done it as a hobby."
According to Levi, the length of the painting process has decreased over time from when her interest in nail art surfaced back in middle school. This process originally lasted anywhere from 45 minutes to an hour, where it now takes 15 to 30 minutes. Levi attributes this to her improved skills and efficiency.
Before Levi reaches the final product worthy of posting to social media, she noted that the nail painting process reveals many more therapeutic benefits than what meets the eye.
"It helps me unwind since it is nail polish and you can't really do too many things while it's drying," Levi said. "It kind of forces me to sit down, not fidget and to take a couple moments to sit quietly and not try to do anything."
According to Levi, since she finds this activity so cathartic, she paints as many nails as possible upon request. Over the past year, Levi has painted friends' nails for special occasions such as school dances, dance recitals and often decorates the nails of her family members as well.
Grace O'Malley, a friend of Levi's, recognizes Levi's distinctive artistic expression through her nail art. According to O'Malley, she can appreciate Levi's noteworthy abilities since O'Malley has been a practicing artist herself since she was younger.
"I think that [her nail account] really shows that Sam is a unique person," O'Malley said. "Most people will show their artistic side through drawing or painting like I do. But Sam has found her medium through nails and has been so passionate about it."
Juhi Gandhi, another long-time friend of Levi's, often recruits Levi's talents whenever she has a dance recital or special occasion. According to Gandhi, over the years, she has seen Levi's skills flourish with the help of her persistent work ethic.
"I see how far she's come with her talent, and she's obviously gotten a lot better," Gandhi said. "It's nice to go to a friend and see them do something that they love and having them enjoy what they're doing too."
Largely attributed to continuous support from friends like O'Malley and Gandhi, according to Levi, her account now has over 1,000 followers and the number continues to grow every day.
However, Levi articulated the fact that what separates her from other nail accounts is that she is not in pursuit of stardom and is solely maintaining her Instagram out of personal enjoyment for the hobby. Moreover, seeing her improvement over time in terms of the progression of designs, the overall process and efficiency is the greatest reward in Levi's opinion.
On a more personal level, Levi also has an identical twin sister, Carolyn, and according to Sam, "CurlyGirlNails" has been another outlet that allows her to distinguish herself from her sibling.
"I do like the fact that it differentiates me from [Carolyn] in some ways," Sam reflected. "If someone meets me [for the first time] and knows that I enjoy doing this and that my twin sister doesn't necessarily to the same degree that I do, it's one more defining factor that makes me different."
According to Sam, as far as the future goes for her, which most likely includes the emotional college departure away from her twin, she plans to continue this hobby throughout the course of her life—whether it be publicized on Instagram or not.
But in terms of more immediate plans, Sam has opted to participate in a community service project this summer called, "Polish Girlz." According to their website, this organization strives to provide hospital patients with the beauty of polished nails when they are unable to make the trek to a salon. In addition, volunteers like Sam would teach the importance of hand washing to reduce infection rates around the facilities.
"This [program] is definitely something that CurlyGirlNails has inspired me to do," Sam said. "This was the perfect opportunity for me to combine my interest [in community service] with nail art."
About the Contributor
Dani Tuchman, Assistant Opinions Editor
Dani Tuchman started on The Oracle by taking Journalistic Writing in her first semester of freshman year. Since then, she has been a staff writer and currently...