Sophomore Gavin Leahy proves passionate for theatre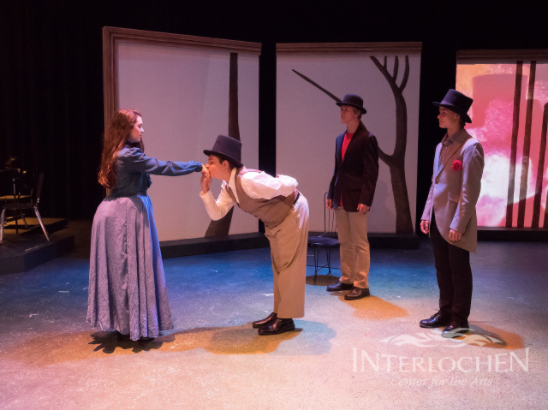 Animated voices echo through the halls of Interlochen Center for the Arts.  These passionate students are hard at work honing their crafts in all forms of art. Sophomore Gavin Leahy, an aspiring actor, has been attending Interlochen's summer program for theater since 2014 and is very enthusiastic about this camp.  
"It's an amazing place and I couldn't imagine my life without going there," Leahy said.
Leahy first got involved with theater when he was younger. His grandparents used to take him to a lot of shows. His acting career began when he was in a kindergarten play, Peter Pan.
"I always thought that [acting] was so cool, so I wanted to see how I could be the person on the stage, not the person in the audience anymore," Leahy said.
Leahy is involved in choir at South, and he did the fall play last year. According to Leahy, he does most of his theater outside of school. He's part of a Another Door Theatre Project, a school for the fine arts, that does four seasonal shows, and is also in an acting technique class and a dance class.  
"My director in the conservatory used to be a casting director on Broadway and then in Chicago," Leahy said. "She's really intense but I learn a lot from her, and I grow so much."
Leahy also appreciates the connections he can make with others through theater. According to Leahy, he strives to be up to part with the talented actors that he performs with, and they provide motivation for him to get better. Leahy also said that he's met awesome people in theater who've become some of his best friends.
"I've learned how to be a good person from my friends in theater because they are nice, genuine people," Leahy said.
Sophomore Gwyn Skiles is one of Leahy's theater friends. According to Skiles, they knew each other in elementary school but weren't really friends, and then they went to different middle schools. They became friends at South, because of the connection they both had to theater.
"Gavin's extremely fun to be around," Skiles said. "He's so funny. During choir, he'll dance around while we're singing. You look at him and you can't not laugh in the middle of a song, it's so funny. He's just got a great personality. He's very bubbly, and he's relatable."
Leahy and Skiles often talk about the performances they have done in the past, and broaden each other's' horizons to new theater opportunities.
"[Leahy's] knowledge of different shows and performances is very versatile," Skiles said. "He knows so many different shows, and so we'll just talk about it and he'll mention a show … then I look it up and my knowledge has grown, and we'll play off each other like that."
Andrew Toniolo is Leahy's Choir Teacher at GBS. According to Toniolo, he has only taught Gavin this current school year because it is Leahy's first year. Toniolo talks about how exciting it is to work with Leahy.
"He brings an unyielding stream of energy into the choral room," Toniolo said. "I really enjoy it because at time he provides me with some of that energy. His love of singing is genuine—being around him is fun."
Leahy said that even though theater is a huge time commitment, he doesn't mind it. He is very passionate about theater, and it's what he wants to do with the rest of his life.
"I want to go to college for theater," Leahy said.  "I want to major in musical theater performance, I want to get a bachelor's fine arts in that. I plan to do this for the rest of my life."