Szafranski indulges in De La Cru, extra curriculars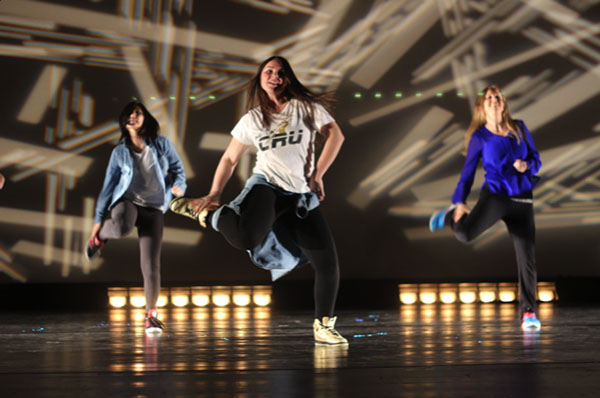 Olivia Sotirchos & Ben Schwartz, Staff Reporters
December 6, 2014
It is one thing to be an involved high school student, but it is a completely different thing to be as involved as senior Erika Szafranski-involved. As captain of De La Cru, a president of Pep Club, a Peer Group leader and a PE Leader, Szafranski knows what it is like to be in charge.
Szafranski, a four-year member of De La Cru, the hip-hop team coached by Patricia Moulakelis, was honored by being selected as captain of the team her senior year. According to Moulakelis, the decision to put Szafranski in charge of 20 girls was inevitable.
"I knew when she tried out that she was going to be my next potential captain just because she has a very strong personality that makes kids drawn to her," Moulakelis said. "She gets the job done and has probably been one of the strongest captains I have ever had on Cru."
Other than her participation in extra curriculars, Szafranski said that she submerges herself in Variety Show. She has participated in singer/dancers as a junior as well as performing with De La Cru. Not only does she feel comfortable performing, she finds a sense of exhilaration from being in front of an audience.
"I love to perform just because it gives you this natural high that you get so excited for," Szafranski said. "It allows [me] to step out of my comfort zone."
Along with her love of performing, Szafranski also plays a role in Pep Club, assuming position as one of the club's four presidents. According to one of her co-presidents, senior Ben Wiberg, Szafranski is a role model and she is not afraid to voice her opinion, which motivates them to improve the club even more.
"She brings her own perspectives from the table, [which] help everyone work harder and have a better attitude about everything," Wiberg said.
According to Szafranski, with her senior year quickly passing by, planning for the future has become more of a reality. She credits her many opportunities in high school with preparing her to dive into life outside of South after graduation.
"I definitely like having leadership," Szafranski said. "I think it's a good opportunity to get myself ready for the real world."
According to Moulakelis, it will be difficult to watch Szafranski depart from South after watching her evolve from an eighth grader into the woman she has grown to be. In Moulakelis's opinion, Szafranski's future contains nothing but positivity and accomplishment.
"She is multitalented–she can do anything," Moulakelis said. "She is going to succeed in whatever she does."