Boys' soccer wins back-to-back tournament championships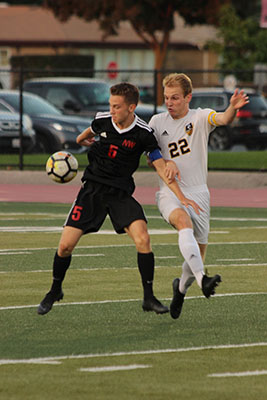 With 15 minutes left in the championship game of this year's Titan Invite, South's boys' soccer team was tied with St. Patrick's at two goals, following a first half that ended in a 2-0 lead for the Irish. Thanks to senior captain Jimmy McMahon, the Titans were able to pull out a win in a successful game moving towards their objective for the season: a regional title.
"This year, one of our main goals is to compete for and win a regional championship," Head Coach Reggie Lara said. "It's been a long time since our school has done that."
During the Titan Invite championship game, McMahon got a free kick 40 yards away from the goal, a very difficult shot to make, according to senior captain Gavin Morse. McMahon shot the ball, hitting it the crossbar and into the net, putting the Titans up 3-2. When time ran out, the Titans had won their second Titan Invite in a row, the first time in 33 years they had back-to-back championship wins.
"We knew going into it that [St. Pat's was] a really, really good team, ranked in state, and known for having a really dangerous offense," Lara said. "The boys rallied in the second half and were able to score three goals and win that championship."
The team felt they should have come out with a stronger start to the season, as their first game ended in a 2-2 tie against Palatine, according to Lara. They went on to win their next three games in group play of the Titan Invite, beating Rolling Meadows, Stevenson, and Notre Dame.
"Things are looking pretty good, but we're not quite where we want to be," Lara said. "We need to clean up and tweak little things that we can do better. Once we are able to make those improvements, I think we will be a much more dangerous team."
As for these weaknesses, Lara feels that the team needs to work on taking advantage of scoring opportunities they receive, as goals they lose when they miss opportunities are going to count when it comes to conference games. On the other hand, the team is very athletic and physical, with a 6-foot height average, something that is hard to come by on a high school soccer team, according to Lara.
"Definitely our strength is going to come with us playing together," Morse said. "Everybody always wants to make up for each other's mistakes and everybody wants to be the person who makes a difference in the game in a positive way."
Outstanding players on this year's team, Lara said, include captains Morse and McMahon, who have been on varsity in all four of their seasons at South, as well as the other captains, Kyle Barda and Matt Ruth. Juniors Jhovany Guadarrama and Julian Issar have also stepped up this year as center midfielders, starting on varsity in both their sophomore and junior years, according to Lara.
"[Morse and McMahon] are two of the more experienced veterans that we look to," Lara said. "[McMahon] is more on the offensive side, scoring goals and creating scoring chances. [Morse] is on our defensive line, and he is a leader in terms of organizing and knowing how to read the game."
Looking forward to the rest of the season, the team has a goal to win the regional championship, which they won in the 2015 season, according to Morse. Lara is also looking to improve their playoff performance at the end of the season. Last year, the Titans were knocked out of the playoffs in the regional semifinal in a 2-1 loss to Lane Tech, Lara said.
"I would say a goal of ours is definitely to win conference," McMahon said. "We have a very skilled, technical team this year, so we're definitely looking to win conference and win a regional."
Upcoming games for the boys soccer team include an away game at Grayslake North on Oct. 9 and their final home game against Waukegan on Oct. 11.