Titan Nation encourages student support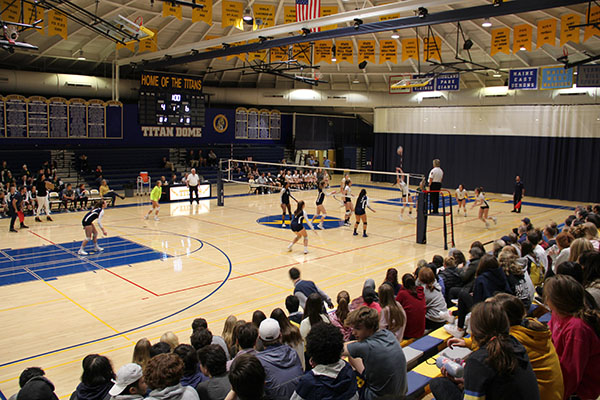 This year, the leaders of Titan Nation, Sunny Choi, Emmy Galante, Dina Graves, Nick Kladis, Lina Pedrelli, Ela Redlinska, Annelise Robinson, MK Russell, Will Solis, Caroline Sultz, and Anthony Travlos, have made enormous efforts to inspire the student body to come out to sports events, according to Graves. They are encouraging the involvement of the student body at sports games, Graves said, because of the positive effect student support has on the players.
When playing in stressful games, it is important for South's players to get a sense of reassurance from the audience, which is why it is so critical that the students in South are motivating players to do their best, Graves said.
"It motivates the players and lets them know that they have fans cheering them on," Graves said. "I also think that student involvement keeps the crowd engaged and having fun."
According to senior Ashley Ryno, student involvement in sports games helps create a connection between the spectators. Through sharing a common interest in cheering on the team, students are crucial to the atmosphere of the game, according to Ryno.
"It builds a connection between everyone," Ryno said. "We all have something in common: wanting to cheer on the team."
However, Graves and the other leaders of Titan Nation are using different forms of "advertising" for these sports events in order for this involvement to occur. Throughout the school, posters have been displayed practically on every wall in an attempt to motivate the student body to attend the games. The posters help get students out to games and bring their friends, according to school-spirit fanatic and Science Teacher Jill Serling.
"More than a few students reported that seeing the posters in the hallways made them aware of the game as well as give them a sense of 'hype'," Serling said. "This led [students] to talk with and decide to go with some friends."
Ryno thinks that the posters help to get members of different sports teams recognized throughout the school because the posters include player names, jersey numbers or positions on the team. School spirit helps to create a positive environment among the students and plays an important role in Titan Nation, Serling said.
"If students and staff make a concerted effort to do something as simple as wearing blue and gold on Fridays and/or find a friend or colleague to attend a game, we're on the right path," Serling said. "You've got to start somewhere."
Motivating the student body to attend away games is an important goal for Titan Nation as well, Ryno believes. Having attended a football game at Maine South, Ryno said that if it weren't for Titan Nation's extra effort, she otherwise would not have known about or even attended this game.
"I went to the football game against Maine South and [Titan Nation along with] other students [were all] there," Ryno said. "That was cool to see."
However, attending sports games isn't the only way for students to get involved in supporting Titan athletics. By taking down the posters around the school, students can receive a raffle ticket if the poster is brought to that specific sporting event. This incentive helps prompt more students to attend sports events, Serling explained.
"Attending the advertised event isn't the only way to contribute to the school spirit," Serling said. "Anyone is welcome, and in fact are encouraged, to help take down a few posters [which] adds some extra incentive to attend."
Titan Nation leaders are always looking for more volunteers to help with the posters to get more student support, Graves explained. 
"Everyone is invited to decorate with us," Graves said. "Seeing thousands of posters around the school gets people thinking about going to the game."
Serling said that Titan Nation leaders are doing a nice job of encouraging the student body out to games and showing school spirit, but it all comes down to the needed effort from the students themselves.
"Titan Nation leaders can create opportunities to participate in, advertise for, and encourage other students, but ultimately the [responsibility] is on each individual student," Serling said.