Diehl looks forward to a soccer career at Cornell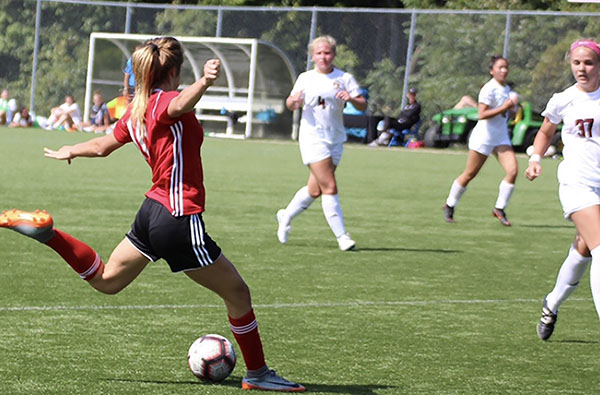 In the biggest game of her life, junior Grace Diehl remembered sprinting back onto the soccer field with a concussion and broken nose after a rough collision with an opposing player in front of Cornell University's top soccer coaches. Regardless of the immense pain, Diehl recognized that this was her chance to prove herself and begin the next chapter of her life. Starting her junior year, Diehl was recruited by an Ivy League School, Cornell University, located in Ithaca, New York.
For elite athletes like Diehl, college athletics has always been up for conversation. At the beginning of Diehl's high school journey, Diehl explained that as she aspired to play soccer in college, she was responsible for reaching out to universities throughout her high school years.
"Starting freshman year, if you want to play a sport in college, you have to do your own outreach," Diehl said. "I sent numerous emails and began reaching out to colleges."
Diehl's soccer career didn't take off until after her ninth birthday, when Diehl was given the rare opportunity to attend a women's major league soccer game. At this event, Diehl was able to meet American professional soccer players Abby Wombach, Megan Rapinoe, and Hope Solo. From then on, her passion for soccer took off.
"Being able to meet these really talented soccer players inspired me to do as well as I can in the sport," Diehl said.
As a dedicated athlete, balancing academics and a rigorous soccer schedule can be a struggle. Diehl is enrolled in many AP college-level classes, prompting more time and effort outside the classroom. These courses make it difficult for Diehl to focus solely on soccer and balance her busy schedule, which often entails late nights and early mornings of homework.
"My soccer practices are usually late at night, so right when I get home from school, I have to do my homework right away," Diehl said. "Otherwise, it won't get done."
Since soccer is a huge part of Diehl's life, she has found herself missing out on numerous social events and time spent with family and friends in order for Diehl to pursue her soccer career. Not only has Diehl's made sacrifices in her own life, but her parents have also made sacrifices in their lives, explained Grace's mom, April Diehl. They have driven to countless soccer practices, games, and tournaments, as well as visiting colleges  around the country in order to ensure Grace's future is as bright as she dreams it will be, according to April.
"I would obviously prefer to have 100%
attendance at family dinners, but we realize that the kids have their own lives to lead," April said. "The exercise, team-
building and skills around time management that Grace is getting are invaluable."