Girls' lacrosse uses team bond to their advantage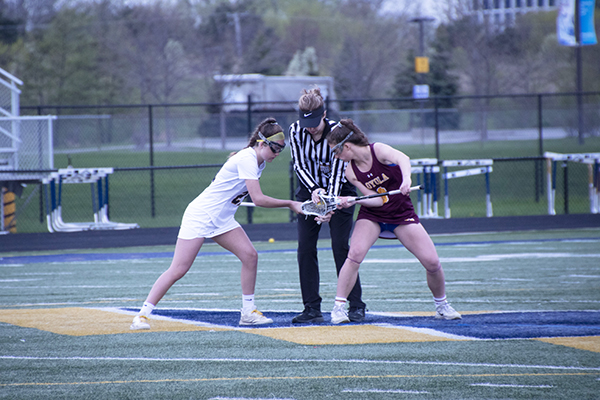 Over the course of this season, the varsity girls' lacrosse team has become confident, hardworking, and more spirited, according to Head Coach Annie Lesch. The girls consistently work together as a team, and with good collaboration, they have been able to come to an impressive winning streak of 15-4 games, Lesch says.
The team shares a devotion for the game which keeps them motivated to get better, says Lesch. In accordance with their hard work, the teams' collaboration allows them to successfully work together in both practices and games, senior co-captain Lila Frick states.
"The teamwork for us as a team is successful," Frick said. "[This] comes from our defense and our offense when both of our units are working together as one whole unit," Frick said.
On April 24, the girls defeated Deerfield 21-2, according to Lesch. The team also won against McHenry 24-4 on May 20, adding to their winning record.
Senior co-captain Greer Bireley says that the players have a different and more competitive attitude when they are playing in both games and practices. The players get mentally prepared to play the game, Bireley explains, and there is sometimes competition against teammates.
"In games, you're mentally in a different state, but our practices are pretty intense just because we are a smaller team and we're very competitive [within our team] and against each other," Bireley said. "We get to push each other and [that helps us] realize how important practices are."
In order to be prepared for their games, the team follows a strict schedule during every practice, Bireley says. At the start, there is stretching and warming up, and by the end, they are working together as a team and bonding with one another.
"Well, first we warm up and do stretching and other things like that," Bireley said. "Then we'll usually do some stick work just to get our sticks warmed up."
The girls' lacrosse team has learned to work together on and off the field, Frick says. It is important to Frick that each player knows what a good teammate is and by being a good teammate, there comes a positive attitude towards the game of lacrosse.
"A good teammate is one that is able to take criticism," Frick said. "One who knows you on and off the field, that has a positive attitude when it comes to tough situations, and encourages you to do your best between our friendly competitions."
Overall, Lesch says that the girls have gotten closer because of such a strong passion and devotion for the game. The team has a great collaboration on the field and off of the field as well, Lesch explains.
"It's apparent to me that they all have a passion for the game, which makes them a fun group to coach," Lesch said