Girls' water polo focuses on positive mindsets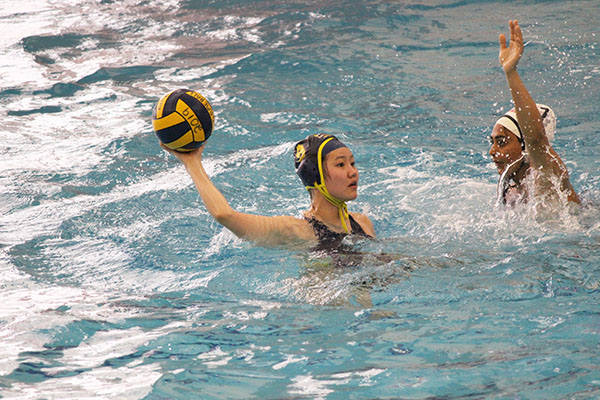 Ashley Desserich, sports editor
April 22, 2019
Huddling as a team minutes before the clock starts and the game begins, the girls' water polo team runs through their strategies and motivates each other for the battle ahead. As they break away, senior Co-Captain Toni Zheleva shouts "South on three," and the team jumps into the water together. Zheleva says this sense of unity is what has kept them so strong this season.
Head Coach Michael Stancik says the team has had a solid start to the season. He attributes their wins to the team's attitude and how they are evenly distributing the ball across all of their players.
"They play like a team," Stancik said. "We keep statistics of the percentage of points scored [per player] and that is a sum of their goals and assists, so it shows how they are distributing the ball. [The percentages] to me are really indicative that we are playing together and not just one person trying to take it and win."
Similarly, Zheleva recognizes the importance of each person's role in the water and how one move can quickly change the pace of the game.
"Every person is responsible for having awareness of their teammates in the water and seeing opportunities come up," Zheleva said. "The right pass at the right moment gets goals. The right defense at the right moment prevents the other team from scoring."
Along with this mentality, senior Co-Captain Dru Tibbetts says they try to keep the energy up throughout the game.
"We all yell 'zero zero' to each other whenever we are starting a quarter, when we do a restart, and when we are coming off the wall from a time out," Tibbetts said. "It is to remind us that no matter what the score is, we should play as if it is the start of the game and that the score does not matter."
Maintaining a positive mindset is key for Zheleva. She explains that she focuses on bringing this attitude, specifically when they need a boost of motivation.
"I would say the most important thing for me is to maintain a very positive mentality for the team when we are struggling in a game or practice," Zheleva said. "Being a leader is about making the team never give up and to always push ourselves to do better."
Apart from the mental aspect, Stancik says in practice they have been focusing on improving their basic skills and going over game strategies. Stancik is hoping to see these strategies continue their success, especially since his biggest goal is to beat their rivals Evanston and New Trier.
"A lot of what we do is focused on fundamentals: what your body position is in the water, how you shoot the ball, where your positioning should be in different defensive [and offensive] modes," Stancik said. "Then there's some time to focus on tactical situations and strategic options."
Stancik says that through many practices and games, what stays consistent is his enjoyment of being with the team.
"In most things in life, it's our relationships with people that make life enjoyable, and so that's where the most fun for me is," Stancik said. "It is to have those moments where I can see someone grow, or we laugh together, or or enjoy a moment where someone really worked hard and got something done."