Boys' swim learns from last season, hopes to improve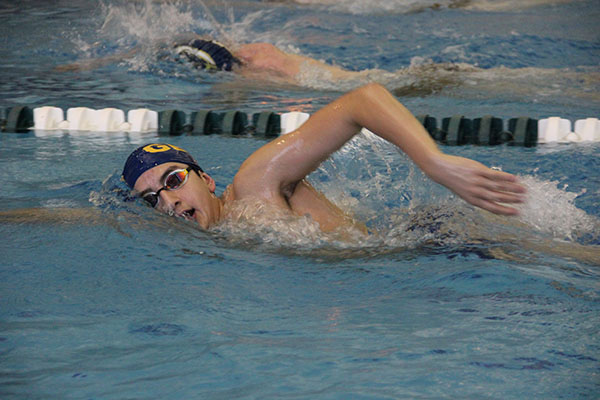 Emma Hammer, staff reporter
December 13, 2018
Senior Zac Spalding dives into the pool for his first meet of the season. He swims as fast as he can, in a tight race with all of his competitors. Spalding touches the pad, marking his time on the scoreboard, as teammate, sophomore Max Iida, dives in after in order to continue the relay without being disqualified. The whole team cheers them on and scream their names from the sidelines.
According to Spalding, he is ready to make his last season swimming at South his strongest season. He will take on different role this year as he is a senior leader for the first time.
"Now that I am a senior, I am kind of in a leadership position," Spalding said. "Even though I am not one of the fastest swimmers on the team, I am still trying to step up and lead by example, not by just swimming fast."
Similarly, Iida says he is excited for his sophomore season with the team. He is interested to see how this year's team will perform differently than last year's, and hopes they will place well at state at the end of the season.
"We have a new group of guys, so I think that this year we will be able to push ourselves more than last year," Iida said. "My team goal is to get top three in state."
Senior Zach Bilimoria also says that this is the year for the team to do something special. He believes that because of the very strong underclassmen swimmers, it will happen.
"I am very excited for the possibility of this year," Bilimoria said. "Not for me, but for some of the younger guys. We have a chance to do something special this year, and as our coach always says, 'The sky's the limit.'"
In addition, Head Coach Keith MacDonald says the boys have worked very hard in the offseason in order to improve their performance. They have shown their dedication and commitment to the team as the season progressed earlier this winter, according to MacDonald.
"A lot of [the boys] have been training this fall and did a nice job," MacDonald said. "They are highly motivated and excited to perform well at the end of the season."
According to MacDonald, this year's team is unlike last year's team because   they were such a young, new team with many underclassmen. MacDonald is looking forward to seeing this year's team perform due to the high amount of experienced swimmers..
"Last year was more of a learning year for us," MacDonald said. "We had such a young team, so I am interested to see how these kids take the next step from last year to making state, [and for] some of the kids progressing to the next level of not only making state, but performing well at state."
In order to succeed in qualifying and placing at state, Spalding emphasizes the idea of staying  more focused on their performances and less on their times. He also believes staying mentally tough will make a difference.
"I think one of our mistakes last year was going into the state meet with a place, top 10, in mind," Spalding said. "I think that kind of slowed us down a bit. Instead, I just want to focus on swimming perfect races as fast as we can."
According to MacDonald, he has faith that the boys will place high at state, as they  have in past years.
"We always considers ourselves a top 10 team in the state," MacDonald said. "This year is no different. We should progress and be one of the best teams in the state."
Come out and support the boys on Friday, Dec. 14 as they compete at Niles North and on Friday, Dec. 21 as they take on Stevenson at home.