Girls' cross country places 10th at sectionals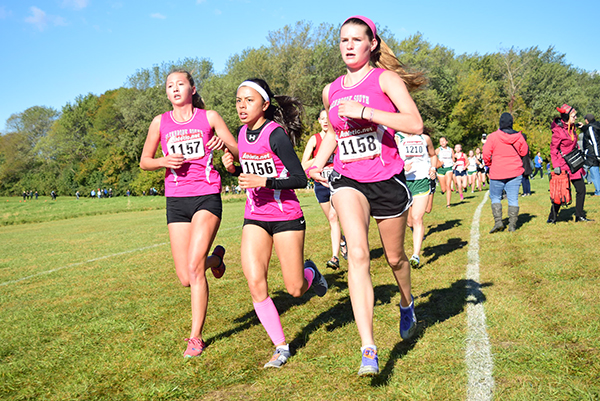 Running anywhere between three to eight miles a day, the girls' cross country team consists of South's strongest runners, with athletes building up their strength, stamina and endurance over the season. Throughout the season, the girls are pushed to their limits, physically and mentally, and continue to inspire different athletes with their motivation and dedication to the sport.
The hard work these girls put in during practices pays off during meets, says junior Kate Jortberg. At a recent invitational meet on Sept. 29, Jortberg finished first and almost broke her personal best time, by one second off. To get to where she is now, Jortberg says she always puts in 100 percent of her effort into practices.
"I always try my best at every practice, especially when we have really hard workouts," Jortberg said. "If you don't try hard at practice then you can't really expect the results to show in the races."
Jortberg's dedication and commitment to the sport has allowed her to realize the importance of taking care of her body before and after competing. She emphasizes that paying attention to her well-being is crucial for her to become a faster and stronger runner. Being committed to a sport that requires so much can be exhausting for some athletes and often takes a toll on them not only physically, but mentally as well, according to Jortberg.
"In practice I keep my goals in mind," Jortberg said. "If I'm struggling during a practice I always remember my goals and that I am doing this for a reason, It helps me focus."
Bonding is key for any successful team, says senior captain Catherine Nowak. She emphasizes the importance of supporting one another and her desire for the team to be closer.
"I want everyone to be close and to be more tight-knit than we already are," Nowak said. "I want us to become a family and become more supportive."
Noted by her teammates for being one of the most supportive members, Nowak continually encourages other athletes and motivates them to do their best and constantly improve. The much-needed encouragement helps motivate athletes during practices and races, according to Nowak.
In addition to helping the girls maintain a positive mindset, Head Coach Meaghan Fastert says she enjoys motivating the girls to constantly put in their best effort and push themselves. Most coaches set goals for their athletes based on their physical performance, however, according to Fastert, her main goal is based on the girls themselves, with less of a focus on how they perform.
"[I want] the girls to love running outside of the season. [I want] them to create a relationship with running where they still love it and they still want to compete or do something outside just for fun," Fastert said.
Like all coaches, Fastert wants her athletes to become stronger at their sport and improve their times, but she also places a heavy emphasis on the mental aspect.
"[I want them to focus on] their mental preparedness in a race,  running is a mental game," Fastert said.
For the athletes leaving high school, Fastert encourages them to keep running in college.
"I want them to look at their times, but also who they are as people," Fastert said.
The Titans finished off their season by placing 10th at sectionals and are sending Jortberg and senior Lauren Hayes to compete at the state meet in Peoria on Nov. 3.