Men's Basketball Adjusts to New Coaching Styles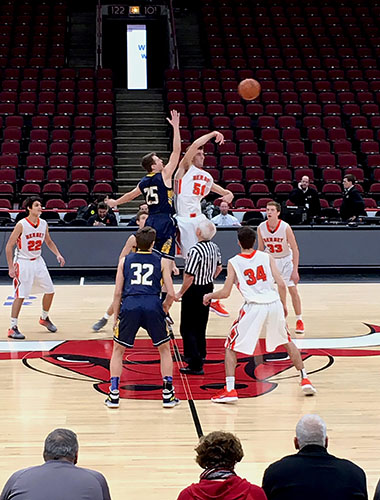 The 2017-18 men's basketball season is in full swing with a record of 2-6; however the team's constant improvement and determination is what will push the team towards progression and regionals, according to senior captain John Mavrakis.
"We haven't started out with a great record, but we're definitely taking big takeaways for what we can do," Mavrakis said. "We are learning how we are as a team and starting to build our foundation. I think that we can bounce back and do really well together."
The Titans' hard work paid off when they played Grayslake Central on Nov. 25 and got a 41-40 win, according to junior Gavin Morse. Elaborating on the importance of teamwork, Morse explains how this game was a turning point in the season and helped give the Titans momentum.
"Our fourth game against Grayslake Central was a turning point in our season so far because we needed to win," Morse said. "You don't want to go out of a Thanksgiving tournament with [a] 0-4 [record], and it was really cool to see our team come together. Everyone played so well and it got a win."
New to the South basketball program, Head Coach Phil Ralston comments on the team's current performance and playing abilities. He explains how his high expectations can only lead to the betterment of the team's performance.
"Right now, I'd say we are a work in progress," Ralston said. "Our young men are trying to work up to the standards I put forth to them. We are trying to find what is going to the best way to be successful this year."
Hoping to continually improve their performance to achieve success, the team has begun to focus on the Regional Championships and winning as many games as possible. Morse explains how South has not succeeded at regionals for the past several years and how it is a team goal to turn that around.
"Our team motto this year is TWR, which stands for 'Titans Win Regionals,'" Morse said. "One of our goals we have is to bring a regional championship to Glenbrook South because it hasn't been done in a while. Another one of our goals is that we are never going to lose on our home court, and I think if we can defend home court we will be really good this year."
According to Mavrakis, this can only be done with hard work, passion and drive. Mavrakis strives to serve as a role model and bring about success for the team.
"[My role is] being an older brother to the younger kids, looking out for everyone, leading this team and [helping the team do] as well as we can this year," Mavrakis said. "I've [been playing basketball for] over ten years and I want [the season to end] the best it can."
Ralston makes it clear that he too wants to create the best program possible for the boys. To do this, he feels the team needs to unite and play their roles respectively.
"All members on the team have a very important role to play," Ralston said. "It's important for them to support one another. It doesn't matter if you're number one or number fifteen on the team. You play an important role in our team's success."
In order to demonstrate improvement, Ralston wants the team to become a challenge for opposing schools to play.
"The main goal is for the young men to understand how I want them to play and develop a team identity," Ralston said. "Which right now, we want to be the team that no one wants to play."
Although it is only Ralston's first year as head coach, his passion for the game, and the success of the program has been evident according to junior captain Mac Hubbard.
"[Ralston] cares about the team and he wants to try and turn around the program, and I like a lot of the things he's trying to implement," Hubbard said. "I think we can do well this season."
Coming in from Loyola High School, Hubbard elaborates on his experiences here at South and his transition into the team.
"It was pretty much like freshman year all over again," Hubbard said. "You have to get used to the playing style [and] meet all these new people. [But] I've known some of the players for years so it wasn't that hard for me to transition to."
Although Hubbard has not let his change in schooling affect his determination to perform well this season, he elaborates on the team goal of progression and improvement throughout the season.
"[Our biggest goal is] to win games and see our progression throughout the season," Hubbard said. "I've already seen it in the last couple games and how much we've grown together as a team, so I think it'll be interesting to see what it'll be like at the end of the season compared to where we were at the beginning."
According to Ralston, he emphasizes the importance of defending home court, support from the school, and the community.
"What I would like to see is [our] great student section at South out there supporting," Ralston said.