Newman looks to continue baseball career at Rutgers University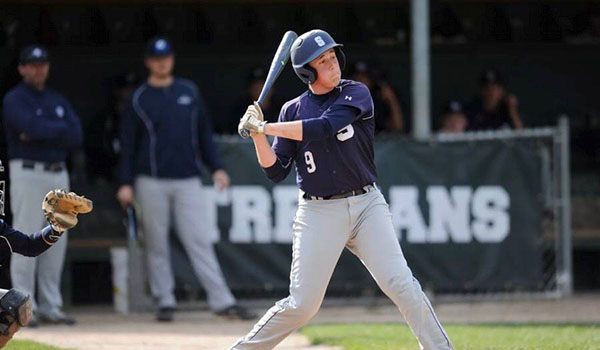 Hang on for a minute...we're trying to find some more stories you might like.
He walks to the field filled with exhilaration. The ball is thrown at speeds up to 90 miles per hour. Jacob Newman has just thrown the first pitch to start his game. A senior pitcher and first basemen on the Glenbrook South baseball team, Newman recently committed to Rutgers University on a Division I baseball scholarship.
   Newman first started playing baseball when he was 6 years old with his father in their backyard. Since then he has played on several different baseball teams including Glenview Blaze, Glenview Patriots and various house league teams. Upon arriving at South, he tried out for the baseball team but suffered a fractured elbow due to overthrowing in his freshman year, forcing Newman to miss the majority of his freshman season.
"I was very upset, and I remember crying to my mom about how I wouldn't get anywhere in baseball," Newman said. "I was in such a tough situation. [Fracturing my elbow] really gave me an opportunity to refocus myself, rethink about school, baseball, and life in general."
Even with the injury, Newman said he didn't let it get in the way of  his performance. Though difficult, Newman had to attend physical therapy twice a week and continued training with his teammates.
"Before I was injured, I didn't really focus on the strength side of things," Newman said. "Once I actually had my injury, I  started getting into the gym more. I did a lot of strength training."
When Newman isn't on the pitcher's mound at South, he attends baseball showcases where college coaches can watch how he plays both of his positions. During one of these showcases, Newman hurled the ball at 90 miles per hour for the first time, catching the attention of the Rutgers University coaches.
"That was the first time they started paying attention to me," Newman said.
According to Newman, Steve Stanicek, varsity baseball head coach, has worked with Newman since his junior year and helped him progress in his baseball career. According to Stanicek he looks to Newman to be an example for others.
"He's the type of kid that shows up to practice every day and someone who leads by example," Stanicek said. "On top of all that he is a hard worker and is committed to getting better each year."
Another source of support for Newman is his best friend Conor Nash, a senior catcher for South baseball. The two have been teammates since eighth grade. Nash says he is always willing to practice with Newman, whether it is lifting weights or catching in the bullpen, an area where relief pitchers warm-up before entering a game. Like Stanicek, Nash also considers Newman a leader on the team based on his ability and personality throughout their years playing together.
"He's one of those guys that always makes people feel comfortable and always helps out when people are feeling down or don't know what drill we're supposed to be doing," Nash said.  "He really is a great player and leader."
Newman said he feels he has many people in his life who have supported him from beginning to end. Throughout his years as a South baseball player, Newman feels he learned the depth of baseball. To Newman, baseball is very similar to life because you can throw the best pitches and the hitter is still going to hit it, so if you give 100% in everything you do, then you never can be a loser.
"Work as hard as you can, [because] you never want to look back and say what if I did this differently," Newman said.