Pys hopes to pursue rowing after high school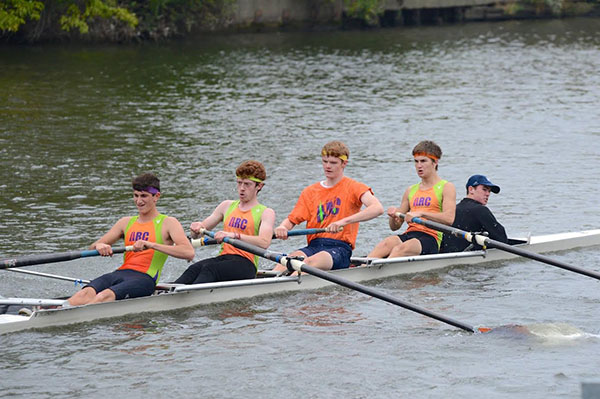 Hang on for a minute...we're trying to find some more stories you might like.
Football, basketball, baseball, lacrosse, soccer: the list goes on and on. South has many male sports teams, each with its own talented athletes. Yet, junior Peter Pys does not participate in any of these in favor of his sport—rowing.
The competitive sport of rowing has a pretty simple objective to it, Pys says: get from one end of the race to the other in the shortest amount of time before the other teams do. Races can vary depending on how many rowers are in each boat and what time of year it is, Pys explains.
"You can get a different amount of people, you can have one person in a boat or eight people in a boat," Pys said. "The race consist of 2,000 meters in the spring season and 8,000 meters in the fall season. You pretty much try to get [from] 'A' to 'B' as fast as you can."
Rowing competitions, otherwise known as "regattas", are what Pys trains for everyday.  According to Pys, his practices can last up to six hours each day after school, but he feels the training is necessary to achieve his desired success.
"[My favorite part of rowing is] the training, just constantly seeking to improve," Pys said.   "[Training] takes up a lot of time, but it just feels great to put in all that work and you go to an event and you give it everything you got."
In March, Pys won the Chicago Indoor Rowing Championships for the Junior Lightweight Race at Chicago State University. Pys, who mainly rows individually, is now striving to win Nationals this year and maybe even make future Olympics as a rower.
According to Pys, he has been rowing for four years and competes for Alliance Rowing Club (ARC) in Wilmette. Most of his teammates go to Evanston Township High School, while others attend Loyola and New Trier.
"[Club rowing] is definitely different," Pys said. "I've been training with [my teammates] for four years, and I developed a bond that I don't really feel like I have with some of the kids here at South. I look forward to seeing [my teammates], but I don't feel any tensions from them being at different schools or anything."
ARC owner Brian Easter explains how he wants to recruit  more athletes from schools like South that do not offer rowing.
"It's the ultimate team sport and has many events, just like swimming," Easter said. "There's sprint season and endurance season, so it is a Spring, Summer and Fall endeavor that allows athletes to pursue other interests and sports."
Peter's mother, Barbara Pys, explains that although she does not play a major role in her son's rowing life, she is supportive and happy for his achievements.
"I believe rowing will be a big part of college life for Peter," Barbara said. "Rowing showed Peter how hard he has to work to reach his dreams. It will be something he continues to do for the rest of his life."
According to Peter, his family has no experience with rowing, so his mentor, Kenny Michaelec, is his role model when it comes to the sport. Michaelec, a former rower for New Trier, is now a collegiate athlete.
Pys said, "I met [Michaelec] last summer, he rows at Princeton right now. He showed me the path of what to do to get [on] the level that he's on."
Having witnessed Peter grow as a rower, Easter describes him as being one of the most improved members on the team.
"Peter, like any thoroughbred athlete, is a pleasure to watch as he progresses," Easter said. "But like all competitors, he can be a challenge. It goes with the mindset for winning."
According to Peter, the best part about rowing is the sense of accomplishment he recieves from it, but he also explains how one can always improve, and there is always something more that could be done.
"There's always more to it," Pys said. "You can't be like, 'Oh, I did well and I'm going to stop there,' but I'm going to keep pushing and do better and better."